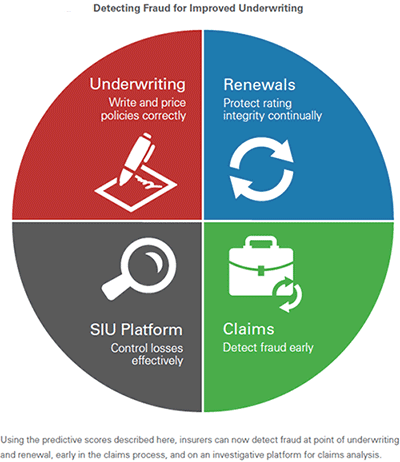 Vehicle location information has been available to law enforcement since 1976, using tollbooth and stoplight cameras that read the license plates of passing vehicles. In the past ten years, the technology has evolved to include mobile scanners mounted on law enforcement and private vehicles as well as new investigative tools, such as police investigation workbench systems and predictive analytics scores.
The new tools and data have helped uncover and break up drug smuggling and gang operations, identify and capture kidnapping and murder suspects, and deter other illegal activities. In addition to law enforcement, nearly all auto finance lenders now use such data and tools. In the past five years, those institutions have recovered vehicles totaling more than $2 billion in value.
The insurance industry is now applying the same technology used by law enforcement and financial institutions in its fight against fraud. In addition to confirming alibis and stories, SIU teams can identify garaging fraud, preexisting damage, commercial use of private vehicles, and theft fraud. Private investigators working on behalf of insurers can use the investigative tools and data for workers' compensation and disability claims to identify activity outside the scope of the claim. Further, the industry is developing predictive scores for early detection of fraud to aid in correctly rating policies and mitigating claims.

Predictive scores are derived by grouping data into clusters of sightings and measuring the geospatial information of time, frequency, and proximity of sightings. Such information helps determine the validity of garaging addresses, commute mileage, or whether a private vehicle is being used for commercial purposes. The results accurately confirm or call into question the validity of the application, policy, or claim information.
Recent studies from Verisk and DRN have validated the value of using automated garaging scores. Multiple studies of out-of-state claims from the Mid-Atlantic to the Northeast have shown up to 45 percent garaging fraud. A recent random sample of in-force policies in Miami revealed a 5 percent rate of garaging fraud. Using an average $1,000 annual rate differential over five years and applying it to the 150,000 vehicles registered in Miami translates to potentially $37.5 million in lost premium.
Industry estimates for garaging fraud start at $1 billion to $2 billion in terms of lost premium. The results suggest the problem may be much larger. It's clear from the studies and work performed using the vehicle location data and tools now available that they're extremely effective in identifying address discrepancies for new business underwriting, renewal, and claims reporting.
Alex Young, vice president, Risk Solutions, DRN, is responsible for developing the company's insurance market. Alex has experience in international sales and executive management, as well as 25 years of experience in the insurance industry leading many successful sales start-ups and financial turnarounds. Before joining DRN, he was the executive vice president of the Americas at eBaoTech, successfully securing the company's first North American client as well as several first-tier global clients for its policy and claims administration suites. As vice president of Insurance Carrier Sales at Vertafore, Alex focused on agent/carrier connectivity for distribution and grew the company to the number one position in that market. As the North American president at Tower Technology, he successfully grew and sold the company to Vignette. Alex holds an M.B.A. from Babson College, an M.S.T. from Bentley College, and a B.S. in management and mathematics from Worcester State University.
If you're interested in participating in a study using vehicle location data, please email Bill Ayscue, senior auto product manager, at William.Ayscue@verisk.com.