Overview
To underwrite and set terms accurately, you need information specific to a building, particularly if it's in a high-exposure area. The reliable wind peril information available through Verisk's Enhanced Wind Rating Program fills a void in the insurance industry by quantifying an individual building's resistance and exposure to wind damage.
The Enhanced Wind Rating Program is engineering-based and actuarially sound. Using wind-related building and exposure characteristics, you can identify, measure, and price exposures specific to the wind peril.
Enhanced loss costs
With the Enhanced Wind Rating Program, you get enhanced wind loss costs — or Basic Group II (BG II) loss costs — for eligible individual properties in Verisk's ProMetrix® commercial property database. Wind is the predominant peril in BG II. The database contains loss costs and other vital information on more than 3.5 million commercial buildings in the United States and more than 6 million individual businesses occupying those buildings. The enhanced loss costs are available for eligible risks in Verisk's Estimated Loss Cost Quote Report and Loss Cost Quote Report.
To develop enhanced loss costs that better reflect each individual building's exposure to wind losses, we've used several sources. They include AIR Worldwide's hurricane and severe thunderstorm models, Verisk's statistical database of insurer premium and loss information, and surveys conducted on-site by our national field force.
The program provides a detailed review of building characteristics and geographic and environmental factors that may improve — or worsen — a building's wind resistance or damageability. Data includes detailed construction information, building code information, distance to coast, terrain type, and other environment and exposure information.
Program benefits
The Enhanced Wind Rating Program offers value to underwriting, loss control, and catastrophe management staff. The program:
Identifies and prices building-specific wind exposure
Enhances BG II ratings by matching the premium charged more directly to wind loss exposures
Provides building data to feed into underwriting processes, catastrophe models, and insurer systems
Until recently, rating for the wind peril was rooted heavily in the methodology for fire rating. The program takes a step beyond the fire-based rating model for wind and enhances the process so you can develop premiums tied more directly to wind exposure.
Program eligibility
Eligibility for the program is based on the geographic risk from wind. We've grouped the United States into four wind hazard zones: low, medium, high, and severe. Those zones, combined with the building size, affect a building's wind resistance and vulnerability. The initial program targets buildings in high-risk areas subject to significant wind losses.
This map shows the relationship between the geographic wind hazard and the building floor area.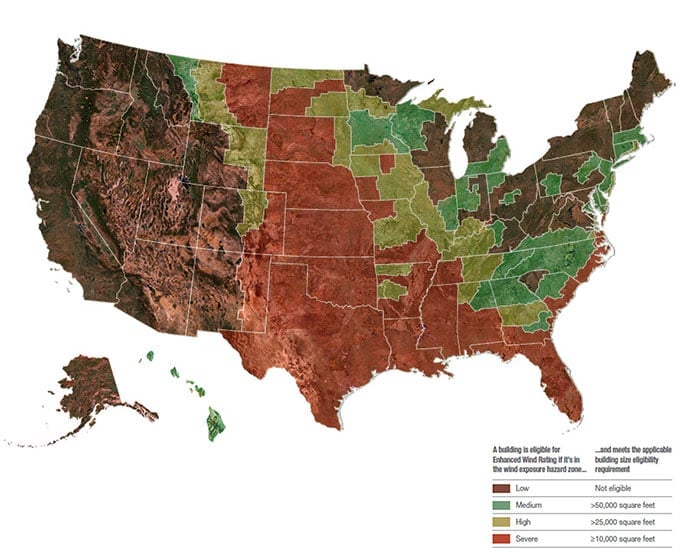 ProMetrix underwriting reports
We include wind-specific information in the Building Underwriting Report and Underwriters Advantage.
Some of the key data elements specific to wind include:
Enhanced BG II wind symbols
Building construction
Building Code Effectiveness Grading Schedule (BCEGS®) scoring and classification
Roof, wall, and framework details
Environment and exposure information
Wind loss history