Water Supplies for Sprinkler Systems Summary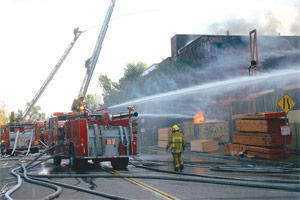 A well-designed sprinkler system is a highly effective method of minimizing property damage from a fire. But simply installing a sprinkler system doesn't guarantee adequate fire protection. Water supply is a critical component.
For example:
A reliable water supply is required for the system to be effective.
A water supply needs appropriate capacity, quality, pressure, and temperature.
Regular maintenance and testing of water supply sources is vital to ensure that the water supply is adequate at all times.
Verisk has trained field staff to evaluate the design, installation, and condition of sprinkler systems anywhere in the country.
The following report includes information on automatic sprinkler systems: