Automatic Sprinkler Guards
If a sprinkler is installed in a place where moving objects could strike and damage it, a sprinkler guard should protect it. For example, in a warehouse with rack storage, sprinkler guards can minimize damage from moving pallet loads.
Sprinkler guards can also protect people from injury in places with low clearance.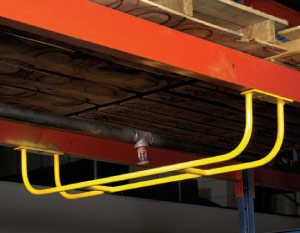 Photo courtesy of Schmidt Structural Products
Sprinkler guards minimize damage from moving pallet loads