The National Interagency Fire Center (NIFC) recently issued its North American Seasonal Fire Potential Outlook for the summer of 2014. For the entire season, NIFC projects much of California and parts of Arizona and New Mexico to have an above-normal potential for significant wildfires. Later in the summer, the center projects elevated wildfire potential for parts of Nevada and Oregon.
But what's the implication for insurers?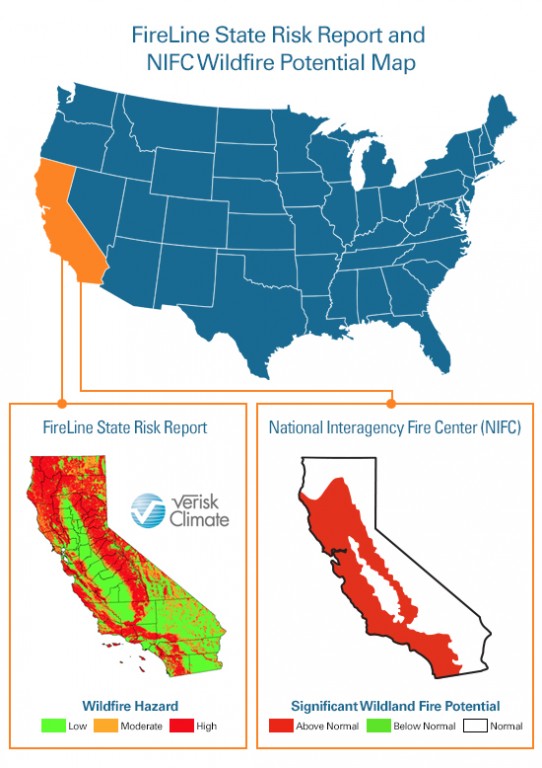 Verisk compared the NIFC outlook with its own FireLine® State Risk Report, which provides the relative wildfire hazard risk for properties. Those two risk assessments are the results of different criteria and therefore serve different purposes.
Verisk develops its FireLine State Risk Report for property insurers to provide an indication of where insurers face an elevated risk of losses when wildfires occur. Verisk assesses underlying risk factors embedded in the environment in which a property is located — factors such as type of fuels, grade of land or slope, and road access issues likely to affect fire suppression activities.
The NIFC outlook analyzes other factors to determine wildfire potential, including current drought, snowpack, fuel conditions, and forecast climate conditions. It's intended as a decision support tool for wildland fire managers, providing an assessment of current weather and fuel conditions and how wildfire risk will evolve over the next four months. The objective is to assist fire managers in making proactive decisions that will improve protection of life and property, increase firefighter safety and effectiveness, and reduce firefighting costs.
The maps of California, above, illustrate the comparison of Verisk's FireLine report and the NIFC outlook. The FireLine map shows areas where the characteristics of the topography and built environment are conducive to property damage due to wildfire. The NIFC map shows areas where conditions reported in the outlook, such as drought and snowpack, increase the likelihood of wildfire occurrence or development.
The similarities between the two maps are significant. With approximately 2 million households at high or extreme wildfire risk, the overlap is an ominous sign for California property owners and insurers.
Follow these links to compare NIFC and FireLine risk maps in Arizona, New Mexico, Nevada, and Oregon and for more information on the 2014 wildfire outlook and insurer wildfire risk by state: