By now, you've probably read the latest edition of the quarterly PCS catastrophe bond report as well as the many other reports released over the past few weeks. Each perspective has led to new questions about 2013 and where the market will head.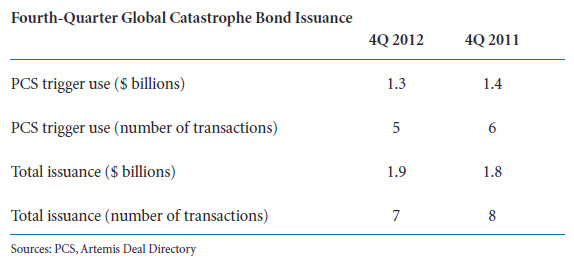 Artemis covered the Willis Capital Markets & Advisory catastrophe bond market report last week and identified how the market stacks up:
Catastrophe bond issuance from fourth-quarter 2011 to fourth-quarter 2012 was basically the same (within $100 million of each other).
This happened despite significant year-over-year growth (approximately 40 percent).
The comparatively quiet fourth quarter left investors "disappointed." They were anticipating more deal flow in December — as one would expect based on the history of the market.
The lack of expected deal flow made it harder for investors to deploy their capital, and in some cases, Artemis reports, that "triggered a bidding war."
Capital clearly wants to enter the insurance-linked securities market, and issuance activity is the primary constraint on market growth. Streamlined transactions that are easier to complete — and understand (for investors) — would help engage more sponsors, lower the cost of capital associated with the instruments, and help stimulate overall market growth.