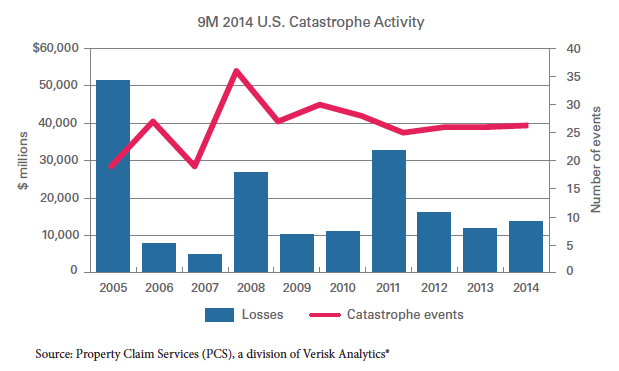 With October upon us, we're nearing the end of hurricane season, although insurers should still be fully prepared for the possibility of a late-season catastrophe event. Back in 2012, Superstorm Sandy occurred at the end of the month and was the most significant October event in the past decade.
Interestingly, there's been no significant tropical storm or hurricane activity so far this year, and PCS hasn't designated any events in the hurricane or tropical storm families in 2014.
CAT 55 was designated on September 9 for wind and thunderstorm activity in Arizona. CAT 56, the second event of the month, was designated on September 30 for wind and thunderstorm activity in both Arizona and Colorado.
Over the past ten years, there have been 14 PCS-designated catastrophe events in October. Eight of the 14 were wind and thunderstorm events. Since 2004, October catastrophe frequency was highest in 2010, with three PCS-designated wind and thunderstorm events. Two winter storm events have been designated in October over the past decade, with the last October winter storm event occurring in 2011, an event that caused $665 million in insured losses.
During the past ten years, PCS has designated only one wildland fire event in October. The Witch Fire in California caused $1.3 billion in insured losses and is the largest PCS-designated wildfire of the past decade as measured by insured losses.