This past August, I had the rare opportunity to combine work, fitness, and charitable support — not a bad trifecta. It happened when I attended the 2014 Tri-Association Conference held in Ocean City, Maryland. This is a joint conference of the Chesapeake section of the American Water Works Association (AWWA), the Chesapeake Water Environment Association(CWEA), and the Water and Waste Operators Association of Maryland, Delaware and District of Columbia (WWOA).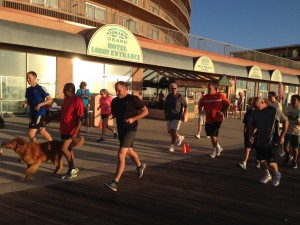 In addition to representing ISO at the conference, I participated in a 5K run to support Water For People. Water For People is an international nonprofit organization founded by members of the AWWA in 1991. The organization supports the development of locally sustainable and safe drinking water in targeted areas of the world to help people improve their quality of life.
As part of the Public Protection Classification (PPC) program, I work with water companies throughout the country collecting water supply data to assess the adequacy of a community's water infrastructure. We then compare the amount of water available with the amount needed to extinguish fires.
Learning about the work of groups such as Water For People exposes you to a totally different world of water concerns. You hear stories of villagers walking four or more hours each day to gather as many jugs of water as they can carry. You also learn that many people have little choice but to use contaminated communal rivers for bathing, washing clothes, and drinking. The stories are on a scale of need we can barely comprehend. An estimated 768 million people don't have access to safe, clean drinking water, and 2.5 billion people live without proper sanitation.
The work accomplished at the conference was productive, the run was good exercise, but most important, the charity is a great cause. I urge you to learn more about Water For People at www.waterforpeople.org.