Verisk Insurance Solutions released its 360Value® Quarterly Cost Update on reconstruction costs for the third quarter. As the housing market has recovered, the rate of increase for overall reconstruction costs in the U.S. went up slightly for the first time in five quarters. The increase was still modest at 1.7 percent from July 2015 to July 2016. In the second quarter of 2016, reconstruction costs were up 0.6 percent.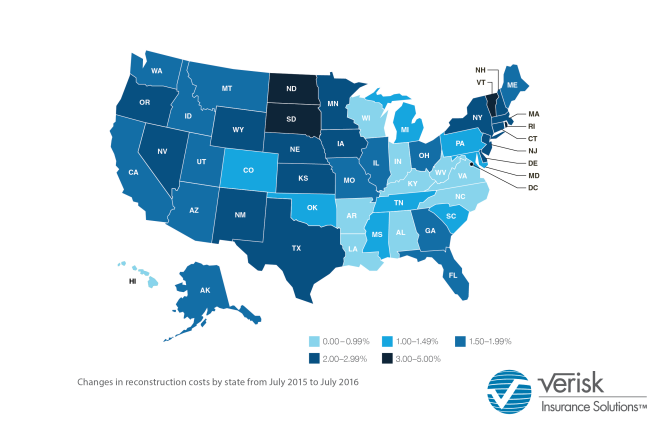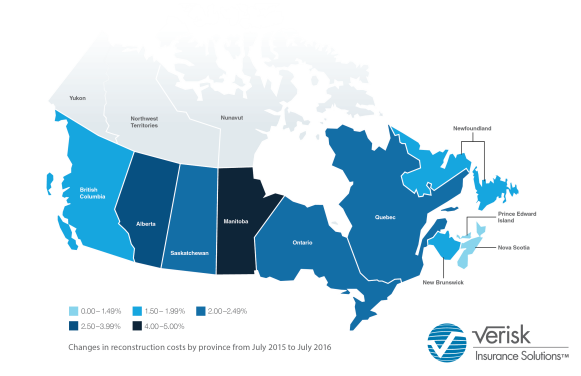 Despite this trend reversal, reconstruction cost changes remain fairly low. In fact, only the District of Columbia and Vermont broke the 4-percent threshold, with Vermont having the highest increase in the nation at 4.6 percent. Hawaii experienced the lowest increase at only 0.4 percent.
Meanwhile, in Canada, all ten Canadian provinces again experienced reconstruction cost increases. At the national level, reconstruction costs increased 2.3 percent from July 2015 to July 2016, according to Xactware reconstruction cost research. During the second quarter of 2016, reconstruction costs went up 0.3 percent.
360Value Quarterly Cost Updates provide current, localized, and detailed cost data on reconstruction labor and building materials—information that's essential for creating reliable, component-based replacement cost estimates. The reports offer an overview of current reconstruction cost trends at the national and state/province level and give 360Value users an understanding of how the changes may affect replacement cost estimates over the next quarter.
The reports feature detailed graphics that make the information easy to understand and use. You get information on six key types of materials and six top labor categories. View the full reports here. For more information on 360Value, visit our website or contact your Verisk Insurance Solutions representative.