Verisk Analytics to Host Annual Risk Symposium in London
By
Chris Perini
| May 26, 2016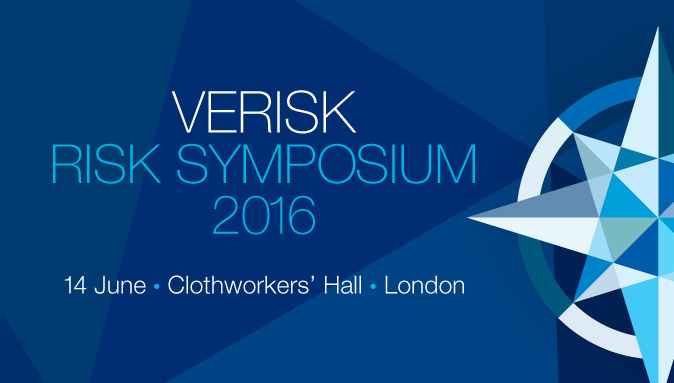 I'm pleased to announce that Verisk Analytics will host its fourth annual Verisk Risk Symposium on June 14 2016 at Clothworkers' Hall in London, England. The event will provide guests with thought leadership on the latest issues in the London and global risk markets.
We'll have a keynote address from Tom Bolt, president for the U.K. and Southern Europe for Berkshire Hathaway Specialty Insurance Company (as of June 1).
Executive Vice President Mark Anquillare will commence the day's proceedings and moderate a panel of prominent senior industry executives. They'll share their insights and perspectives on the latest issues affecting the London insurance market. Panelists will include David Gittings, chief executive, Lloyd's Market Association; Peter Mungeam, chief operating officer, Aon Benfield Client Services; and Benedict Reid, interim chief executive officer, London Market Group.
I'm also thrilled to announce that the symposium agenda will also include panel discussions on the potential benefits and challenges of using data and analytics and the adoption of the new Verisk Cyber Exposure Data Standard.
Beth Fitzgerald, president of ISO Solutions at Verisk Analytics, will moderate the panel on Data & Analytics: Driving Better Decisions. Panelists will include Pantelis Koulovasilopoulos, senior vice president and chief actuary, Chubb Tempest Re International; Tim Pitt, director of data, analytics, and pricing, XL Catlin; and David Fagan, commercial lawyer and director, Business Legal.
The Verisk Cyber Exposure Data Standard panel will be moderated by Shawn Dougherty, director of cyber for ISO Solutions. Panelists will include Otto Beyer, senior actuary, Guy Carpenter & Company; Julia Graham, technical director, Airmic; Matthew Hogg, underwriting manager and vice president of commercial underwriting–Professional & Financial, Liberty Specialty Markets; and Scott Stransky, assistant vice president and principal scientist, AIR Worldwide.
Along with the three main panel discussions, Verisk's AIR Worldwide business will host an afternoon Cyber Risk Event, where attendees can hear from experts across the cyber landscape. These discussions will include approaches to better understanding cyber exposures, legal consequences of cyber events, data and methodologies for measuring global cybersecurity performance, and the construction of cyber models and scenarios for cyber risk evaluation and management.
Panelist will include Hans Allnutt, partner, DAC Beachcroft LLP; Matt Cullen, assistant director and head of strategy, Association of British Insurers; Nigel Pearson, global head of fidelity, Allianz Global Corporate & Specialty; Scott Stransky, assistant vice president and principal scientist, AIR Worldwide; and Mike Woodward, program director of data, BitSight Technologies.
Join us at the Verisk Risk Symposium 2016. Register now.
---