May 2016 is Building Safety Month, and Verisk Analytics is proud to sponsor week four of this national event. In a proclamation on April 29, President Barack Obama announced this designation and noted Verisk's commitment to expand community resilience efforts through our Building Code Effectiveness Grading Schedule (BCEGS®) program. We're very proud to receive that recognition.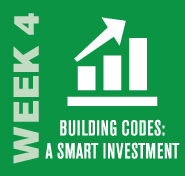 The International Code Council (ICC) founded Building Safety Month to increase public awareness and reinforce the need for adoption of modern model building codes and a strong and efficient system of code enforcement. For more than 20 years, ISO Community Hazard Mitigation's BCEGS program has been assessing building codes in effect in communities and how each community enforces its building codes, with a special emphasis on mitigation of losses from natural hazards.
The White House fact sheet that accompanied the proclamation said, "The Verisk family of companies commits to expanding the Building Code Effectiveness Grading Schedule (BCEGS) program to aid in a better understanding of the losses avoided and the overall resiliency of a community through the effective enforcement of building codes by developing a new BCEGS grading schedule that will incorporate additional data elements related to resiliency."
In addition to our regular program, ISO also published the 2015 National Building Code Assessment Report in the first quarter of 2016. The report featured a comprehensive examination of building codes and their enforcement in the United States, important information that building code officials and local communities can use to measure their own performance and recognize national trends.
It's a great honor to be part of Building Safety Month, and we thank all the other organizations that are contributing to its success. Additional information about ISO Community Hazard Mitigation is on our website, and you can review a copy of the national report.
---