Two PCS Catastrophes: Wildfires Rage in California
By
Arindam Samanta
| September 16, 2015
The Valley Fire in Middletown could become one of the top five costliest wildfires in California history and may cause the largest losses since 2007. The Butte and Valley Fires, both designated PCS®catastrophes, are the fastest-burning Northern California wildfires in decades.
The Valley Fire alone has destroyed more than 585 homes, 20 commercial buildings, and about 1,000 other structures throughout 65,000 acres. More than 9,000 homes are currently threatened by the fire, which drove out more than 17,000 people. The fire is only 15 percent contained. Because of prolonged drought and current hot, dry, and windy conditions, fuels in the area are burning rapidly.
The Butte Fire has destroyed more than 71,000 acres, 200 buildings, and 6,000 other structures. The blaze is only 37 percent contained.
In the four counties Governor Brown declared as disaster areas, more than half the homes are at high or extreme risk of wildfire:
Amador County — 61%
Calaveras County — 66%
Lake County — 61%
Napa County — 45%
Our 2015 FireLine State Risk Reports — 13 in all — show the top five counties in each state in the high and extreme wildfire risk category by number and highest concentration of housing units. Our methodology uses advanced remote sensing and digital mapping technology from Verisk Climate to assess the primary factors that contribute to wildfire risk — fuel, slope, and road access — to determine the wildfire hazard score.
A total of 45 wildfires are currently burning in western states.
Valley Fire, California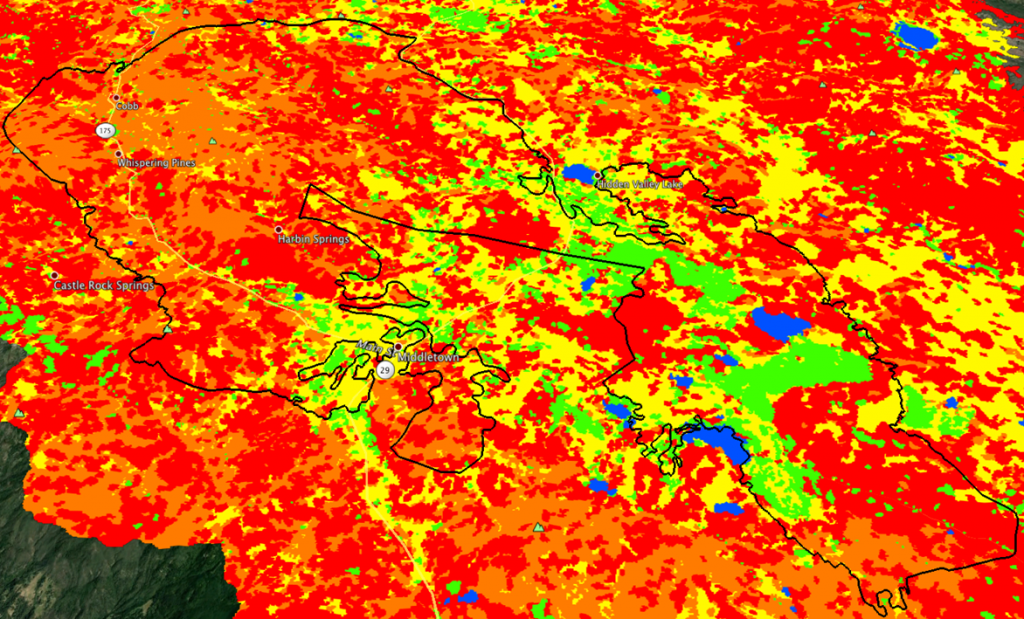 Valley Fire, California, as of early September 14, 2015: Fuels analyzed in FireLine® are shown in map colors.
Fire perimeter data from Cal Fire (http://www.fire.ca.gov/general/firemaps.php). Image overlay on Google Earth.
---