In August, National Equipment Register (NER), a division of Verisk Crime Analytics, and the National Insurance Crime Bureau (NICB) released their national report on 2011 heavy equipment theft.
The 2011 Heavy Equipment Theft Report reveals which types of equipment and which locations are the most likely candidates for theft and recovery. In addition, the report provides equipment owners, insurance companies, and law enforcement personnel with information to use in allocating investigative resources and influencing theft prevention efforts.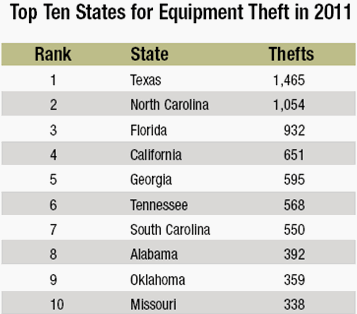 The 2011 Heavy Equipment Theft Report draws on data from the National Crime Information Center (NCIC), the NICB, and NER to form a comprehensive analysis of heavy equipment theft last year. In 2011, the NCIC received 11,705 theft reports.
The five states with the most incidents of heavy equipment theft were (in descending order):
Texas
North Carolina
Florida
California
Georgia
Together, those five states accounted for 40 percent of total equipment theft. Rounding out the top ten were Tennessee, South Carolina, Alabama, Oklahoma, and Missouri. The top ten states accounted for 59 percent of all thefts.