The 2015 hail season got off to a relatively slow start before really kicking into gear beginning in late March. Multiple days of severe weather targeted the southern and central Plains in the months of April and May, with the metropolitan areas of Houston, Austin, and San Antonio recording large hailstorms. During the summer months, hail was found throughout much of the country, with large storms impacting metropolitan regions from Denver to Minneapolis to Boston.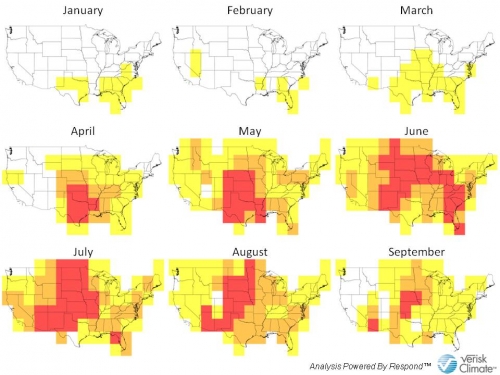 A depiction of the evolution of the 2015 hail season by month. Image shows four-degree resolution grid cells. Yellow to red indicates low to high activity in terms of the count of severe hail days as determined by Verisk's Respond product.
Texas has been the bull's-eye of the 2015 hail season, having been impacted by severe hail storms on more than 150 days this year. While many cities and towns in Texas saw hail, perhaps no city was hit harder than Stephenville. In just a sixteen day period in late April and early May, Stephenville saw three hailstorms that produced hail of golf ball to softball size. This produced significant damage throughout the city and left a conundrum for insurance professionals trying to decide a proper loss date for these hail claims, especially those filed after all three storms had occurred.
While three large hailstorms in such a short time span may seem extreme, areas within the Great Plains do experience this, with some localized areas seeing five or more severe hailstorms in a year. One such location to see this in 2015 was a small region to the southwest of Rapid City, SD in the vicinity of the towns of Keystone and Rockerville, which lie just to the northeast of Mount Rushmore. Multiple hailstorms in this region, primarily in June and July, brought everything from golf ball size hail to accumulating hail up to half a foot deep.
While many areas in the Great Plains are use to receiving hailstorms, other areas of the country are less accustom to it. On August 4th, a hailstorm moved through the city of Boston after tracking across most of the state of Massachusetts. While hail in the Boston area may seem rare, it is not unheard of for the region to receive hailstorms. The supercell thunderstorm on that day dropped 2" hail, which, according to records maintained by the Storm Prediction Center dating back to 1955, was the largest hail ever reported in Suffolk County, the county Boston is located within. While hail of this magnitude is significant, there has been larger hail reported in the state of Massachusetts. On June 1, 2011, a 4" hailstone, the largest ever reported in Massachusetts, was recorded in East Windsor and on July 11, 2006, a 3" hailstone was reported in Marblehead only about 13 miles to the northeast of downtown Boston.
With a little less than two months left in 2015, it won't be long before the 2016 severe weather season is upon us and a slew of new hail events occur, bringing with them new perspectives about hail in the United States.