When it comes to claims processing, time is not on anyone's side. After an accident, flood, fire, or theft, it's dependent upon the claimant to initiate contact with the insurer. And it can be a day or more before the adjuster is able to speak to the claimant to get full details about what took place. The first questions an adjuster asks after an incident—Did anyone get hurt? What happened?—may not be fully answered for days. But this lag in information intake is about to change.
Use of vehicle telematics is expanding
By this time, the use of telematics is familiar in the industry to rate drivers. Many insurers view usage-based insurance (UBI) as an effective way to identify, attract, and retain safe and low-mileage drivers. But now, all the data that telematics devices collect can be used in ways that will revolutionize insurance far beyond customer acquisition and retention.
Verisk Telematics Data Exchange™ will make telematics information actionable
The Verisk Telematics Data Exchange™ is the first-of-its-kind data exchange for driver information. Among other uses for underwriting and sales, the Exchange will take incident data collected by vehicles enabled with telematics devices and make it available for a number of claims functions through our Concierge Claim Service.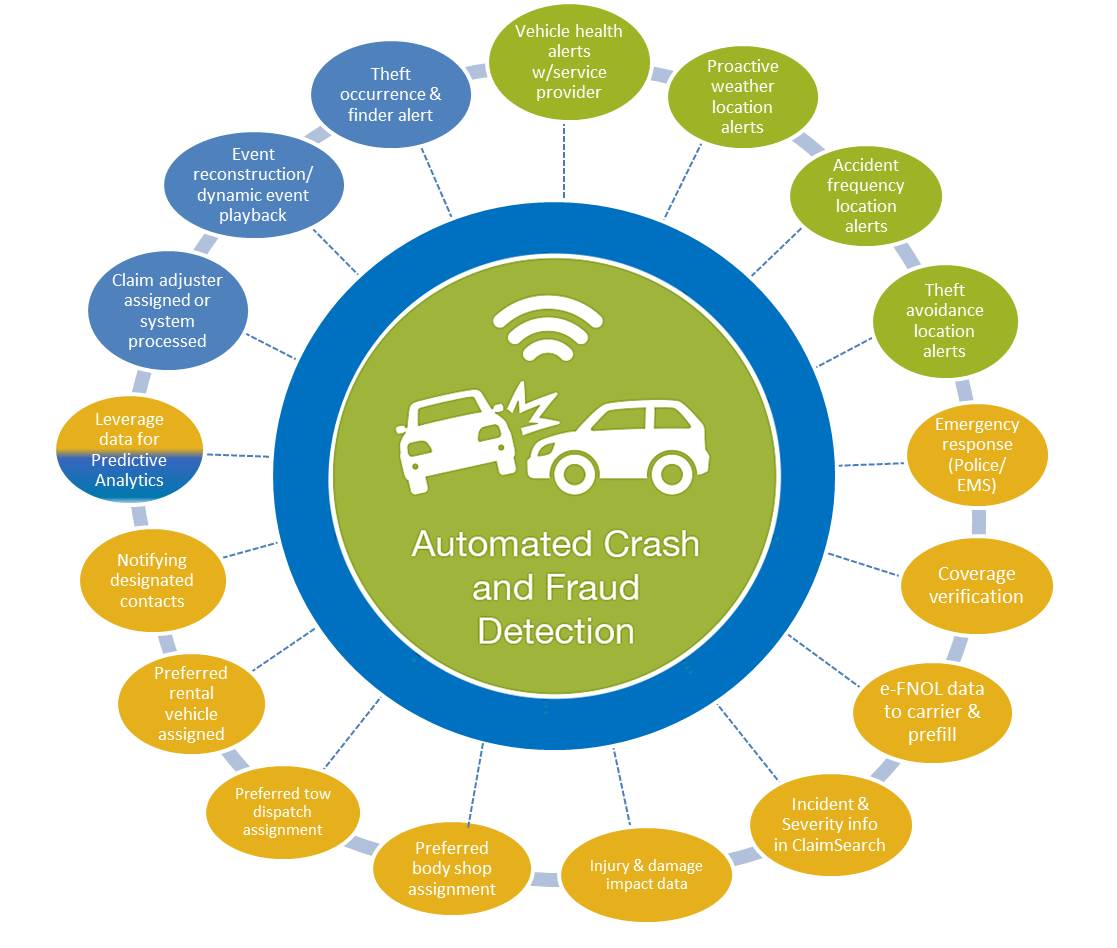 The Concierge Claim Service includes:
proactive services, which the insurer can present under their own brand and that assist in mitigating losses
FNOL event activation and insights, which notify the insurer of the event and launch the FNOL process
post-claim services, which provide the insurer with more accurate assessment of an event and the ability to expedite next steps
Automation of accident and claimant information
For the very first time, driving behavior and vehicle data will be available from the moment an accident occurs to initiate the first notice of loss (FNOL) with the insurance company. ISO ClaimSearch® will intake data from the Exchange and enter it into its claims system, looking for matching information from more than a billion claims and searching multiple third-party sources of information. ISO ClaimSearch will provide insurers with real-time claim details, including insured's name, address, Social Security number, and other fields. Insurers will also immediately be able to view any ISO ClaimAlert™ information, including prior loss history, red alerts such as prior SIU involvement, and other indicators that the claim may need to be investigated. The Exchange will prefill information to initiate FNOL and alert the adjuster that a file is ready for their review.
Adding clarity to liability
Determining liability in an auto accident can be difficult if there are no witnesses and the police report is inconclusive. But claims data available through telematics will provide an unprecedented level of clarity. Take the example of two vehicles merging in traffic—one is stopped and the other one lurches forward, hitting the side of the stopped vehicle. The police can't determine who hit whom. But the connected vehicle will report that it was stopped and it was hit. Liability is clear, and the claimant's insurer has a case headed for subrogation.
Proactive accident prevention will be available
The Claims Concierge Service will also enable insurers to go a step beyond processing claims to become proactive in preventing accidents. Now, vehicle telematics will become a two-way communication through which insurers can warn drivers about weather, accidents on their route, and more, to help them avoid trouble spots and drive more cautiously when necessary.
Developing the future of claims with us
Verisk is actively seeking insurers that would like to be involved as development partners for the creation of the Verisk Telematics Exchange Claims Concierge Service. If your company would like to know if it can qualify for participation in this program, please contact Dawn Mortimer at 608-770-1106 or dawn.mortimer@verisk.com.