As we approach the warm weather months from May through September, it's important to note they can be the busiest times for thieves, according to a year-over-year analysis of equipment. In 2010, July was the most active month for theft, followed closely by June. In 2011, June had the most thefts, followed by May, July, and August.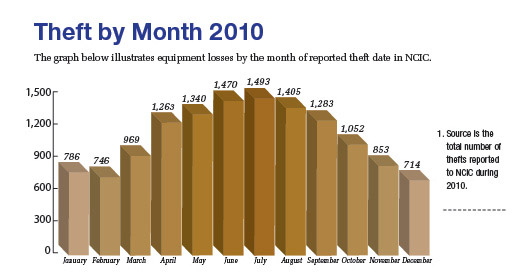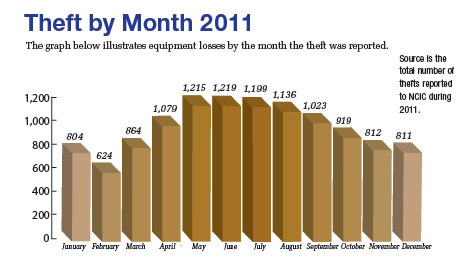 Theft levels closely correspond with peak construction periods. In other words, the months with the highest volume of theft are the ones that have increased equipment activity due to cooperative weather, longer days, and the end of a crop growth cycle. As equipment owners move items between job sites and fields, there is greater risk, exposure, and opportunity for theft. Thefts also may go unnoticed for a longer period of time when equipment is stolen off-premises or in transit than when equipment is stolen from an owner's yard.
NER encourages equipment owners to take extra precautions against theft during the months when their equipment is most in use. One easy way to protect equipment is to register it on NER's HELPtech®. For information on NER and HELPtech, please call 1-866-663-7872 or send e-mail to info@nerusa.com.