Traditionally, the Atlantic hurricane season runs from June 1 to November 30. While forecasters have predicted a relatively normal hurricane season for this year, there have been five named storms in the Atlantic thus far.
The most significant tropical event that occurred within the past ten years took place in September 2008, Hurricane Ike. That storm resulted in $12.5 billion in estimated insured losses and 1.4 million claims across nine states. Tropical Storm Lee, which occurred in 2011, was the second largest September tropical event. That storm resulted in $535 million in estimated insured losses and 109,000 claims.
Since 2006, Property Claim Services® (PCS®) has designated 21 events in September, with estimated losses totaling $18.2 billion. The most active year was 2010, with five events and estimated insured losses of $1 billion.
September historical data 2006 - 2015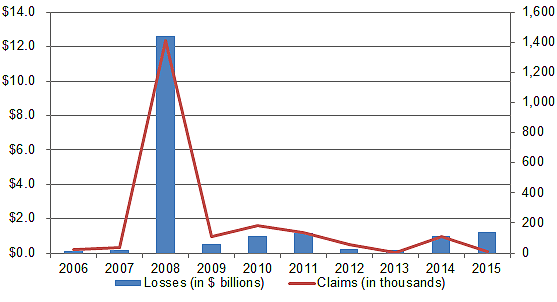 For access to vital PCS information on the go, download the new PCS-Mobile app.