Historically, the most active period for Atlantic hurricanes is late August through September, with a mid-September peak. The most significant September tropical event in the last ten years was Hurricane Ike. Making landfall in 2008, the event resulted in $12.5 billion in insured losses and 1.4 million claims affecting more than nine states. Hurricane Rita, which occurred in 2005, was the second-largest September hurricane event on record at PCS, causing $5.6 billion in insured losses and 393,000 claims.
Eight September catastrophe events are among the "PCS Top 20" largest catastrophes, the largest being the September 11 terrorist attacks in New York and Virginia in 2001, with $18.8 billion in losses and 40,000 claims.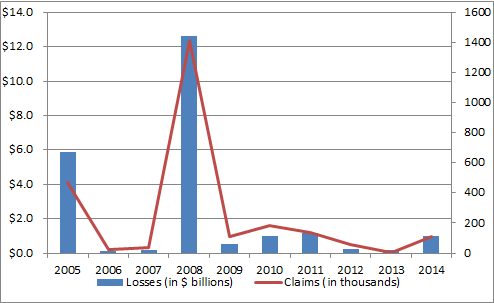 To get access to vital PCS information on the go, download the new PCS-Mobile app for iPhone.