The 2013 wildfire season in the western United States is looking to be a difficult one, fueled by a combination of factors, including a drier-than-normal preceding winter, generally drier vegetative fuels, and warmer current conditions. In addition, projections of higher temperatures and lower-than-normal precipitation this summer raise the prospects of what could become an intense wildfire season.
A number of fierce wildfires are raging, threatening hundreds of thousands of properties, in both Northern and Southern California. They include the Panther Fire (Tehama County), the Summit Fire (Riverside County), and the Springs Fire (Ventura County). Those fires have already damaged homes and are threatening hundreds of thousands of additional properties. Since it started last Thursday, the Springs Fire has spread along the coast north of Los Angeles, carried by winds in excess of 43 miles per hour. The fire has also partially shut down the Pacific Coast Highway.
To date, the fire has reportedly damaged 15 homes, destroyed 26 outbuildings, and laid waste to more than 27,500 acres of brush.
We at Verisk and AER are monitoring these wildfire developments through cutting-edge satellite imaging technology, some of which we also use in FireLine®, our property insurance wildfire risk assessment solution.
AER provides near-real-time data on current wildfires through AER Respond™ for Wildfire Service. The service applies proprietary algorithms to the most up-to-date satellite imagery — both moderate (>100 meters) and high (<10 meters) spatial resolution — to provide the following analytics:
accumulated burn area — reanalyzed when new imagery becomes available
new burn area — assessed relative to burn area from prior analysis
hot areas — (if any) provided at burn area analysis times
AER has scheduled the analytics for daily releases plus intermediate releases when new data becomes available in a variety of geospatial formats (for example, shapefiles) that seamlessly integrate into existing GIS systems.
AER Respond for Wildfire Service can help with your insurance operations in a number of ways:
timely assessment of potential claims activity
support for underwriting moratoriums
timely allocation of resources for claims adjusting
post event analysis for claims adjusting
overall exposure management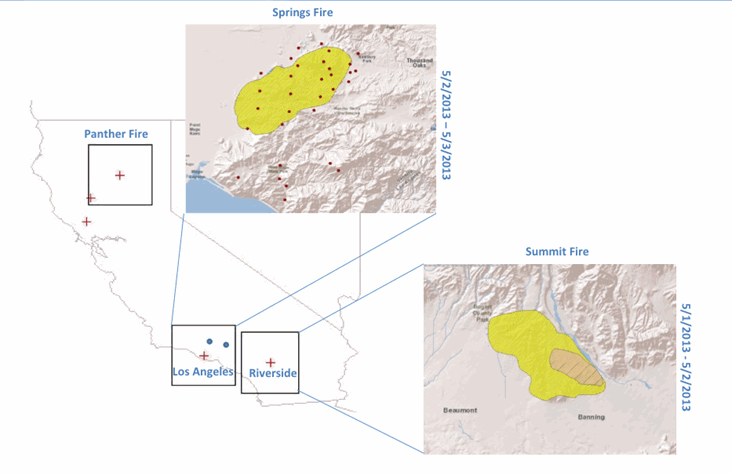 AER Respond for Wildfire Service is tracking several California wildfires, including the Panther Fire (Tehama County), the Summit Fire (Riverside County), and the Springs Fire (Ventura County). The insets above show polygons of burn area, changing over time. Also shown are hot areas/hotspots (red dots) in the Springs Fire area.