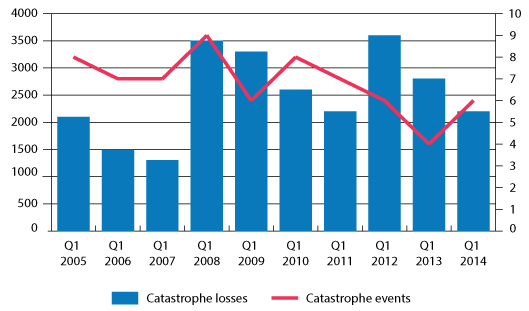 In the first quarter of 2014, Property Claim Services® (PCS®) designated six catastrophe events that resulted in $2.2 billion in insured losses. Those results are slightly below the ten-year average (2005 to 2014) — seven events and approximately $2.5 billion in losses.
This year's first quarter was the quietest since 2011, when seven events caused approximately $2.2 billion in catastrophe losses. The following year — when six catastrophe events led to $3.6 billion in losses — produced the most severe first quarter of the past decade. The polar vortex was responsible for the vast majority of the first-quarter catastrophe losses in 2014 — more than $1.5 billion across 17 states.
Nineteen states suffered from first-quarter catastrophe activity, with Georgia sustaining the greatest losses ($318 million). New York and Pennsylvania followed, with $296 million and $219 million, respectively. Georgia was also among the top states in the first quarter of 2013, with catastrophe losses of $640 million. The most affected state of the first quarter of 2013 was Mississippi, with $805 million, and Louisiana was third at $503 million.
Personal property losses accounted for 75 percent of first-quarter activity ($1.7 billion), followed by commercial property losses at 23 percent and vehicle losses at 2 percent. Seventy-three percent of polar vortex losses came from personal property, 26.7 percent from commercial property, and 0.3 percent from auto.