PCS Q1 2014 Catastrophe Bond Market Update: Trend Tracking
By
Joe Louwagie
| April 2, 2014
The ongoing shift in underlying catastrophe bond market trends over the past year shows how dynamic the sector has become. Innovation, wider geographical reach, and increases in market participation continue to shape the catastrophe bond market, opening more opportunities to both sponsors and investors. The five key trends in the catastrophe bond market right now indicate the increases in flexibility as well as the expanding foundation for future market growth.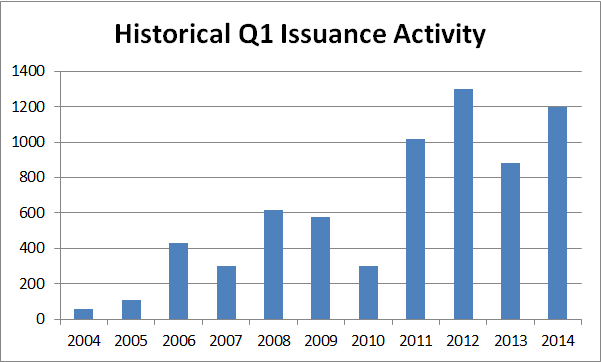 1. Catastrophe designation in indemnity triggers: In the first quarter alone, two sponsors used PCS for catastrophe designation in indemnity-triggered catastrophe bonds for the first time. One is a new sponsor, and the other returns to the catastrophe bond sector after a two-year hiatus. More activity could come later this year if historical trends are any indication, and more sponsors may adopt PCS for catastrophe designation, especially if they have begun to use indemnity triggers. The increased use of this approach can help more sponsors transfer risk to the capital markets because the independence and discipline inherent in the use of a third party for catastrophe designation can be attractive to investors and make it easier to analyze capital allocation opportunities. PCS catastrophe designation can be particularly useful for such perils as wildland fire, thunderstorm, and winter storm, where no other organization is available to provide an objective third-party designation (such as NOAA for hurricanes).
2. Cat bond lite: Cat bond lite innovation in 2013 led to early adoption in 2014. By February, issuance activity had occurred on both the Kane SAC and Tokio Tensai platforms. With three transactions already completed — and the awareness that others have been completed, although without fanfare — early adopters have paved the way for broader use. Each publicly revealed cat bond lite deal has provided $25 million in cover. However, reports of a $50 million deal have surfaced, showing that slightly larger cat bond lite deals are possible.
3. Continuing regional diversity: U.S. wind remains dominant in the catastrophe bond market, but sponsors and investors continue to see other opportunities. The inclusion of several international regions in first-quarter issuance demonstrates this, continuing last year's momentum, characterized by catastrophe bonds covering Canada, Turkey, New Zealand, Japan, Australia, and parts of Europe. As new regions and lines of business become available to the ILS community — through projects on which PCS is currently working — sponsors and investors will be able to increase their use of capital market capacity, as appropriate, to improve risk and capital management.
4. New market entry: A third of first-quarter issuance activity this year came from first-time sponsors, following slightly more than that for the fourth-quarter of 2013. Additionally, several companies have returned to the catastrophe bond sector after long breaks — such as Allstate (Sanders Re) and Catlin (Galileo Re) — which effectively expands the market. New entrants provide a foundation for future organic market growth, which would then be accelerated throughout the market by the addition of new regions and lines of business.
5. Amplified pressure: According to various reports at the January 1, 2014, reinsurance renewal, the quiet 2013 catastrophe year resulted in downward pressure on the cost of catastrophe bond cover. With spreads tightening, sponsors have sought to reduce frictional costs with renewed vigor, given their magnified impact as the cost of cover falls. This trend is likely to continue in the absence of a market-changing event, such as a large catastrophe. PCS remains committed to helping the market manage frictional costs.
Download the latest cat bond report now
---