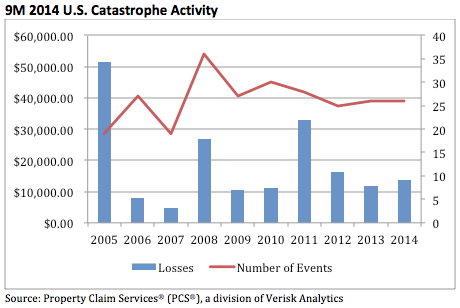 So far this year, North American catastrophe activity has caused nearly $14 billion in insured losses, according to the Small Rise: PCS Q3 2014 Catastrophe Review report, the latest quarterly catastrophe update from PCS. PCS designated 26 U.S. catastrophe events in the first nine months of 2013. Though insured losses climbed 13 percent from the first nine months of 2013, they still trailed the ten-year average.
Despite unchanged year-over-year frequency in the United States for the first nine months of the year, the resulting industry-wide loss estimates are considerably different. U.S. catastrophe losses are nearly $13.6 billion this year, up 13.2 percent from the same period a year earlier, subject to changes from five catastrophe events with resurveys open and one that has not received a preliminary estimate yet. PCS users can get the latest estimates by logging into the ISOnet® portal or through our PCS FlatCat® service.
Personal losses accounted for 61 percent of catastrophe losses in the first nine months of 2014 ($8.3 billion), down slightly from 63 percent for the first half of the year. Commercial losses rose slightly to 20 percent, up from 17 percent in the first half of 2014. This can be attributed to the late-August earthquake near American Canyon, California. Auto losses fell slightly to 19 percent (from 20 percent). For the third quarter, personal losses accounted for 62 percent, with auto losses at 21 percent and commercial at 17 percent.
Canada is experiencing one of its quietest years since at least 2009. So far this year, PCS has designated four catastrophe events, with insured losses reaching only C$700 million, down almost 80 percent from last year's record. Catastrophe losses fell 77 percent year over year, but 2013 was Canada's most active year, largely because of second- and third-quarter catastrophe activity. The next most active first nine months of the year came in 2011 — at only C$1.4 billion. Excluding 2013, the average nine-month aggregate loss since 2009 is only C$970 million, with 2014 falling below it by 28 percent.