Questionable claims from organized fraud have surged over the past few years. Despite an 11 percent dip from 2010 to 2011, overall activity rose 47 percent from 2008 to 2011, according to the Insurance Information Institute (I.I.I) citing National Insurance Crime Bureau (NICB) statistics. And the NICB expects another spike of close to 50 percent from 2011 to 2012 — to around 4,700 — when the NICB data becomes available.
Based on NICB questionable claims data from 2008 through the first half of 2012, the ten states with the highest levels of questionable claims related to organized insurance fraud are: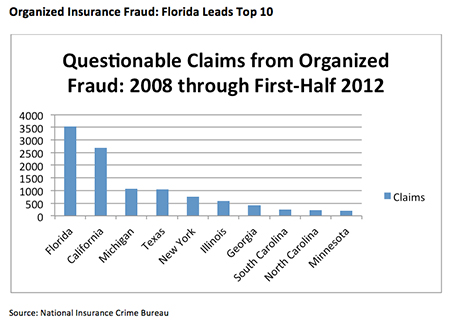 Florida: 3,530 claims
California: 2,679
Michigan: 1,080
Texas: 1,050
New York: 765
Illinois: 591
Georgia: 422
South Carolina: 244
North Carolina: 236
Minnesota: 198
To help insurers fight organized fraud more effectively, ISO Claims Solutions plans to release a new tool in third-quarter 2013. It will apply predictive analytics to the data in ISO ClaimSearch®, which has more than 843 million claim records and continues to grow every day. With the tool, rather than react to the possibility of organized fraud, insurance special investigation units (SIUs) will proactively get the head start they've always needed.
This fraud network analytics system will scan ISO ClaimSearch to find indicators of organized fraud and then build out the related networks.