As October approaches, so does the end of peak hurricane season, however, insurers should still be vigilant and prepared to assist policyholders in the event of a late-season disturbances.
While the fourth quarter generally tends to be less active, there have been 19 PCS-designated catastrophes in the month of October in the past ten years. One of them was a tropical event, Superstorm Sandy in 2012. Sandy occurred late in the month and was the most significant October storm in the past decade, with approximately $18.75 billion incurred in insured losses. The remainder of the October events over the last ten years included 14 wind and thunderstorm occurrences, two winter storms, one wildland fire, and one workers' compensation–designated event.
Since 2006, October catastrophe frequency was most significant in 2015, with six PCS-designated wind and thunderstorm events. In addition, October is not immune to winter storm activity. As previously mentioned, two winter storms have been designated in October over the past decade. The October 2011 winter storm event caused $665 million in insured losses.
Within the past ten years, PCS has designated only one wildland fire event in October — the Witch Fire in California. That fire caused $1.3 billion in insured losses and is the largest PCS-designated wildfire of the past decade.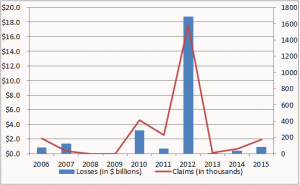 To get access to vital PCS information on the go, download the new PCS-Mobile app for iPhone (link to App Store) and Android (link to Google Play Store)