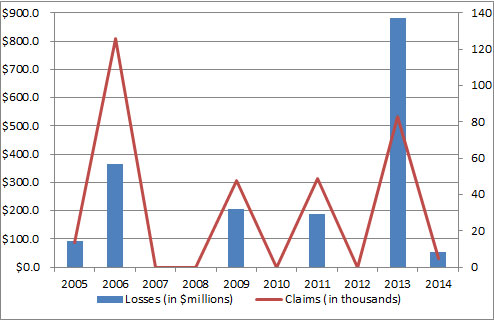 On November 30, the 2015 hurricane season comes to an end. So far this year, only one catastrophe has been designated as a tropical event, Tropical Storm Bill, which impacted Texas and Oklahoma in June and resulted in approximately $58 million in insured losses. There have been no catastrophes related to tropical events in November in the past ten years.
PCS has designated a total of seven non-tropical catastrophes in the last ten years in the month of November, resulting in approximately $1.8 billion in insured losses. The largest November event, a wind and thunderstorm event, CAT 29, occurred in 2013 and caused a total of $883 million in insured losses. CAT 59, also a wind and thunderstorm event, was the only catastrophe designated last November, resulting in a total of $53 million in insured losses.
Twenty-two of the 33 PCS-designated events for 2015 year-to-date have been wind and thunderstorm events. Seven of the events were winter storms, two were wildland fires, one was the riot in Baltimore, and the other was Tropical Storm Bill.
Listen to an interview on WRIN TV, in which Joe Louwagie, assistant vice president, Property Claim Services® (PCS®), talks about catastrophe frequency over severity, data housing, and more.