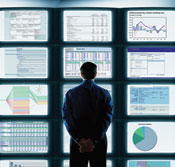 As part of our ongoing dashboard initiative, the ISO ClaimSearch® team is pleased to announce our new NMVTIS Dashboard. Due for release in the second quarter of 2014, it will unlock valuable insights from your NVMTIS reporting efforts to help you more effectively analyze and improve your NMVTIS compliance reporting.
The NMVTIS Dashboard will provide multiple reports to track your NMVTIS reporting history, further enhancing your ability to reconcile your NVMTIS reporting to ISO ClaimSearch. The dashboard will also include:
total losses reported by you, qualified total losses submitted to NMVTIS, and total losses that did not qualify
reasons the total losses didn't qualify
total loss record amendment request stats
Users can access the NMVTIS dashboard for high-level graphical trend overviews, drill-downs to the file level for individual record review, and everything in between. We'll also include industry benchmarking data allowing you to compare your NMVTIS reporting history to that of the other ISO ClaimSearch NMVTIS compliance reporting subscribers. With that information, you can maximize your compliance reporting results.
To learn more about the ISO ClaimSearch dashboards initiative, please contact ISO ClaimSearch at claimsearchnmvtis@iso.com.