It's an exciting time at ISO ClaimSearch® as we work diligently to transform your user experience. We just rolled out of the first changes; the newly designed login screen.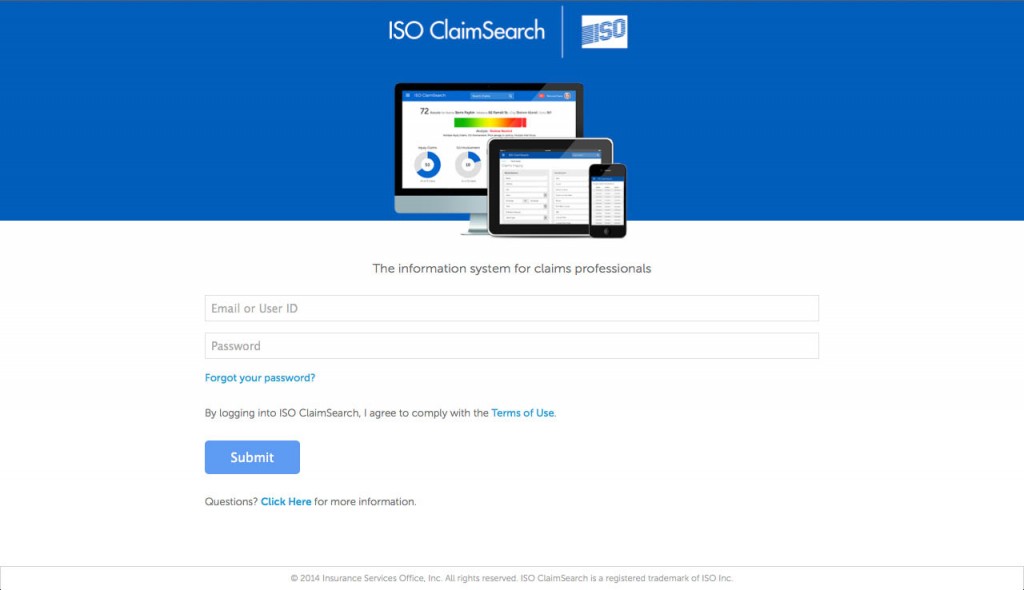 New feature: The option to log in with your email!
Now all existing user names and passwords will be active for the site. However, as an added convenience to our users, you'll now also be able to log in with the email that's associated with your ISO ClaimSearch registration.
More login page features
We're pleased to announce that now you'll have to agree to our terms and conditions only once every year. Just accept the T&C once, and you won't have to do so for a full year.
While the customer service contact information is no longer located on the login page, it can be accessed through the "Questions" link at the bottom of the page. All the information is contained on a separate page that users can easily access through the login page.
A full ISO ClaimSearch transformation is on the horizon
Future ISO ClaimSearch changes will include a more intuitive design supported by a robust system to facilitate faster claim handling and deliver superior claim data and insights to you. The new site will be far more user-friendly and efficient and will include:
a cleaner, more dynamic customer experience
contextual graphics to provide better data interpretation
interactive components for more detailed information
improved site organization
Expect to see additional changes to ISO ClaimSearch in early 2015
Self-administration – The first phase of self-administration will allow companies to designate an internal administrator who will have the ability to activate and deactivate their users of the ISO ClaimSearch system without submitting a form or contacting customer support to administer the requests. This increased administrative efficiency will save time and have an immediate impact on your company's use of the ISO ClaimSearch system.
Mobile app – A new Claims Inquiry app for iPhone, iPad, and Android devices is currently being developed to let adjusters conduct Claims Inquiries on the go. This will also allow users to search, filter results, and view match reports from the field. In addition, the new app will support adjusters' ability to view contact information and call or even FaceTime that information right from a mobile phone.
As always, we'll keep you and your staff fully informed as we deliver the transformed version of ISO ClaimSearch. You can expect to hear from us frequently in the coming months through emails, articles, and training to provide everything you need to take advantage of and feel at ease with the redesigned site and new features. If you have any questions, please feel free to contact ISO ClaimSearch customer support at info.claimsearch@iso.com.