Need an Easy Way to Screen Claims for Fraudulent Activity?
By
John Deegan
| March 4, 2014
Are your claims adjusters spending too much time investigating the backgrounds of claimants? Conducting a thorough search can be costly and time-consuming. That's why we created the Decision Net® Fraud Crime Screening Service.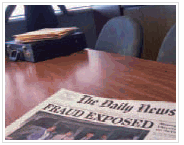 Our Fraud Crime Screening Service offers a quick, easy, and comprehensive way to identify claimants who have a history of fraud crime convictions. The automated approach to background checks can help you accelerate your investigations.
Reporting claims to ISO ClaimSearch® activates the service automatically. Within 24 hours, you'll get back a bulk file of crime record information matching to subjects listed in your company's claims. Records may show a variety of charges and convictions, including:
accounting fraud
arson
conspiracy to commit fraud
embezzlement
forgery and impersonation
fraudulent check writing
fraudulent driver's license
fraudulent use of credit cards
insurance claims fraud
public assistance fraud
theft by deception
workers' compensation fraud
---