The Atlantic hurricane season runs from June 1 through November 30 every year. Although forecasters have predicted below-average activity for this year, we've already experienced the first tropical event of the season — Tropical Storm Ana — which made landfall near Myrtle Beach, South Carolina. Fortunately, the storm had minor impact and resulted in very little property damage (PCS® did not designate it a catastrophe event).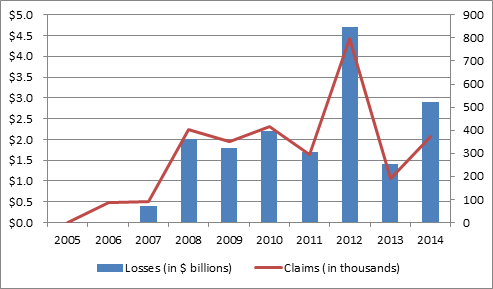 Historically, June has shown that it can be an active month for catastrophe events — and 2012 comes to mind. PCS designated seven events in June that year, resulting in approximately 700,000 claims and $4.7 billion in losses. Two events accounted for nearly two-thirds of the total: CAT 83, with $2 billion in losses, and CAT 77, with losses of $1 billion.
Last year, PCS designated six catastrophes in June, which led to 370,000 claims and $2.9 billion in industrywide insured losses. CAT 45 was the largest event, with approximately $1.3 billion in losses, followed by CAT 47, with losses of $350 million.