Summer has come to the northern hemisphere, and last ten years have seen July losses from wildfire, hurricane and other storm events. From 2007-2016, PCS designated 33 catastrophic events in this month-- resulting in total insured losses of roughly $9.7 billion.
Last year we saw the most active July, by frequency, of the past decade. In 2016, PCS designated seven catastrophe events in July: six wind and thunderstorm events and one wildfire event. Together, these generated approximately $2.1 billion in property losses. So, July 2016 replaced July 2011 as having the highest severity of the period.
PCS has designated only eight tropical storms or hurricanes as catastrophes in the month of July, since 1970. Since then, the most active July for tropical storm and hurricane activity was in 2005, when Hurricanes Dennis and Cindy generated more than 120,000 claims and nearly $1.3 billion in insured property losses.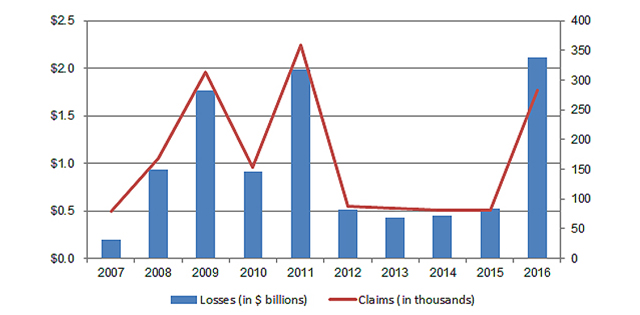 To get access to vital PCS information on the go, download the new PCS-Mobile app for iPhone (link to App Store) and Android (link to Google Play).