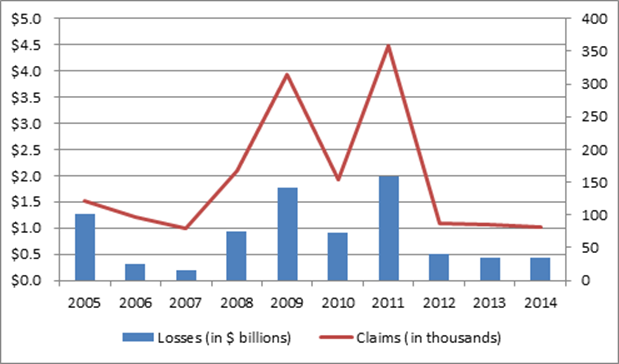 We're a month into hurricane season, and two storms have already hit. Tropical Storm Ana and Tropical Storm Bill both made landfall and brought heavy rain to the Carolinas and Texas, respectively. If history is a guide, however, we can expect something of a breather in July, which historically has seen low levels of tropical storm activity.
Since 1970, Property Claim Services (PCS) has designated only eight PCS catastrophes with the tropical storm peril in the month of July. The most active July came in 2005, with Hurricanes Dennis and Cindy generating more than 120,000 claims and nearly $1.3 billion in insured property losses.
PCS has designated 29 July events in the last ten years, resulting in insured losses of $8.8 billion. The most active years by frequency for this period were 2008 and 2009. PCS designated five catastrophe events for each year. By insured losses, 2011 had the most active July at nearly $2 billion across four PCS-designated events.