As cold temperatures persisted across much of the U.S. through last weekend, the East Coast recovers from a strong winter storm.
Arctic Temperatures across Central and Eastern US
Since Christmas Day, arctic air continued to flow into the United States out of Canada through last weekend, as a result of an upper-level jet-stream flow that extended further south than usual. High pressure at the surface caused clear and dry conditions that helped sustain cold temperatures in the evening. The Great Plains and eastern U.S. saw a brief increase in temperatures before a second wave of arctic air brought colder temperatures than the previous week.
East Coast Storm System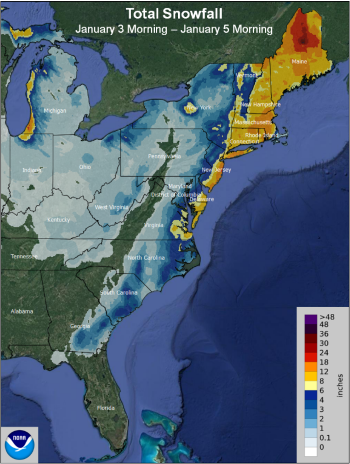 A low-pressure system that developed south of Florida early last week rapidly intensified as it moved northward along the East Coast. Areas of Georgia and the Carolinas received 2-6 inches of snow and ice. The system tracked up the East Coast, bringing up to 12 inches of snow across the Mid-Atlantic. As the system moved into the Northeast on Thursday, cold air moving across the Great Lakes combined with the main low-pressure system to produce more than 18 inches of snow in the eastern part of the region and more than two feet in northern Maine. As the center of the system intensified off-shore, high winds, gusting to 60 mph and over, impacted eastern New England. Strong winds and freezing precipitation led to power outages along the coast.
Insurance companies are expecting property claims associated with this storm to include damage from high wind gusts as well as heavy snowfall in the Northeast. High storm surge and flooding impacted coastal properties in Massachusetts and Rhode Island. Flooding and dangerous road conditions along the coast could result in a high number of auto-related insurance claims as well. As even colder air swept across the central and eastern US, claims related to business (crop destruction, etc.) and property claims (frozen pipes, etc.) are anticipated. Verisk's Respond and Benchmark weather solutions enable insurance companies and adjustors to prepare for and assess the damage related to weather events like this, while speeding up the claims process.
Respond: Wind Product Upgrades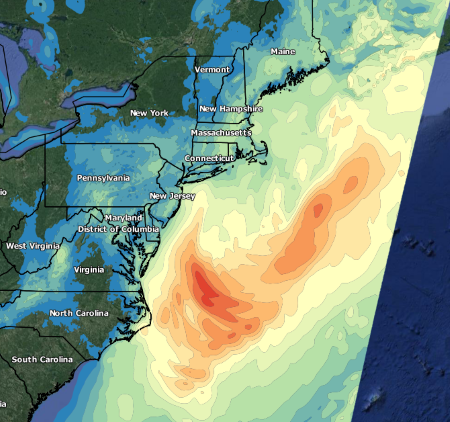 Verisk Weather Solutions is currently upgrading our proprietary wind algorithm to continue to bring you the best in near real-time weather data and analytics. The new algorithm boasts multiple improvements including an enhanced decision tree process to incorporate weather station and other wind observation data into the process. The data will include hourly wind gust and wind direction analysis across the continental U.S. This improved wind algorithm will provide a more complete picture, enabling clients to make better decisions about how to respond to these events. Look for more information on our wind algorithm upgrade in an upcoming blog post.
Learn more about how Verisk's solutions can help you manage weather events.