With winter on its way, we look ahead to January cat event risks. Catastrophic January storms since 2007 have caused nearly $5.9 billion in insured losses.
PCS has designated 16 catastrophes during the month of January between 2007 and 2016, including 10 winter storms and six wind and thunderstorm events. Last January, we saw the month's greatest catastrophe frequency since 2007.
In 2016, PCS designated three events in January alone. The largest January winter storm since 2007, though, was CAT 32, designated in 2014. It involved 17 states and had an estimated insured loss of $1.7 billion. The Polar Vortex within CAT 32 contributed to the damage. With the earlier January storm CAT 31 causing $170 million in insured losses, January 2014 had nearly $1.9 billion in total insured losses from 185,000 claims. There also were two January PCS catastrophes in 2007, 2008, and 2010, making these and 2014 the most active years of the past decade.
The following graph illustrates catastrophe activity for the month of January from 2007 to the present in loss dollars and claim volume.
January Historical Data 2007-2016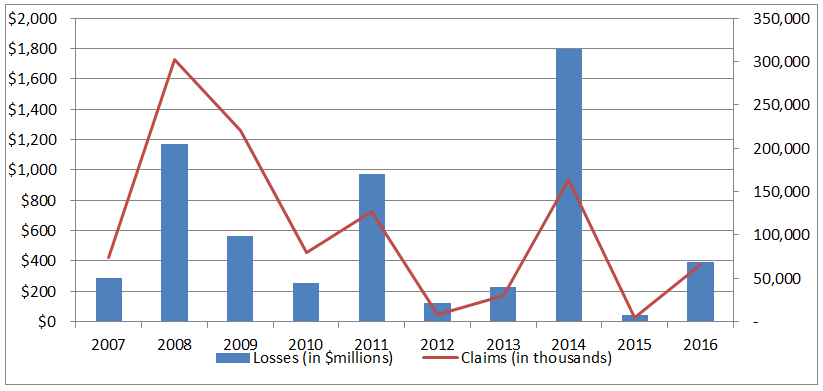 To get access to vital PCS information on the go, download the new PCS-Mobile app for iPhone (link to App Store) and Android (link to Google Play).