It didn't take long after we introduced the next generation of ProMetrix® reports, analytics, and our customer-facing delivery platform to start working on improvements. The feedback from customers has been overwhelmingly positive and very helpful. Internally, we addressed some issues related to the website platform to make it even more user-friendly. And we took a fresh look at some of our core reports and services to determine how we might provide additional risk insight to our clients.
One such improvement crosses over two of our core competencies: field-verified property surveys and insightful analytics. We decided to combine the two and include our Relative Hazard Percentile on field surveys performed for customers.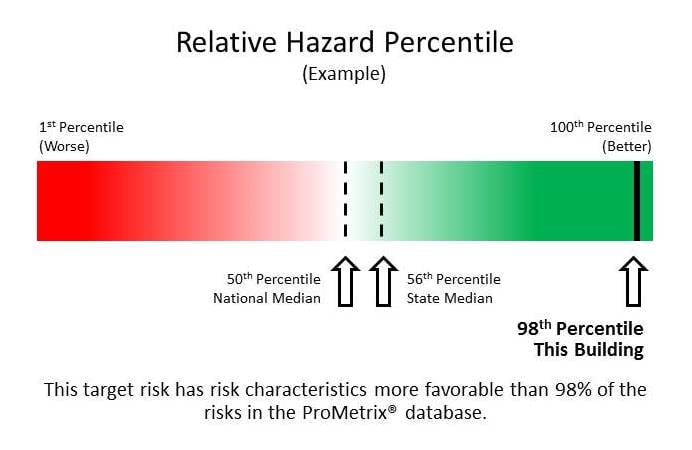 Verisk's more than 550 field analysts conduct over 350,000 on-site commercial property underwriting surveys each year. The surveys use the Specific Commercial Property Evaluation Schedule (SCOPES) — our nationally recognized engineering methodology — to verify the consistent evaluation and analysis of hazards for every property. SCOPES assesses potential losses through the interaction of key variables, such as construction, property hazards, private and public protection features, and details about occupancies at the property.
Property condition and associated risks are obviously important, but knowing how that property's risk characteristics compare with similar buildings provides more powerful insight. The Relative Hazard Percentile does precisely that. It uses an objective engineering formula to evaluate a building's construction, occupancy, fire protection, and exposures. Then it scores them relative to state and national averages for similar buildings in Verisk's ProMetrix database of more than 3.7 million commercial properties and 6 million businesses.
Relative Hazard Percentile is based on a 1-to-100 scale, providing insurers with a relative ranking among similar properties. A higher score indicates the building has fewer deficiencies and is quantitatively ranked better than other properties with the same occupancy, size, and level of fire protection.
That stratification of properties gives customers an objective risk score for individual risk selection and loss control prioritization. The additional insight allows underwriters to quickly identify which properties have higher or lower risk, and that helps them make more informed underwriting, tiering, and coverage selection decisions. Armed with that information an insurer can know which properties to underwrite immediately and which may need a more intensive review.
Learn more about our survey services.