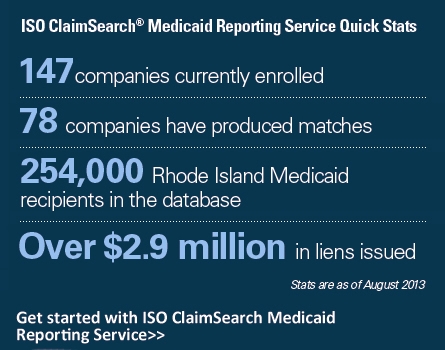 Our team developed the ClaimSearch Medicaid Reporting Service to help you respond to the Medicaid reporting and verification requirements in Rhode Island. Rhode Island passed Article 11 as part of Title 27, chapter 57.1-1 — the Medical Assistance Intercept Act. Article 11 requires all insurers that write workers' compensation or liability policies in Rhode Island to participate in a data match program called the Medicaid Recovery Network (MRN). MRN recovers and intercepts Medicaid payments that the agency issues on behalf of Medicaid recipients if an insurer pays on a claim.
As of August, 2013, there were 147 companies enrolled in the program, and 78 of those companies had produced matches.
The service is available to insurers and self-insureds. There is no fee for ClaimSearch participants. All you need to do is report your claims to ClaimSearch as usual, using Universal Format. The service handles the MRN reporting for you. We'll help you keep in compliance with the new legislation.