Internet of Things to quadruple
By
Steve Lekas
| February 23, 2015
The number of web-connected devices that make up the Internet of Things (IoT) is expected to quadruple by the year 2018 from 1.9 billion devices in 2014. From parking meters to home thermostats, IoT will represent 9 billion devices globally by 2018.
How will IoT influence homeowners and auto insurance? First, a definition:
Internet of Things (n.)
Everyday objects connected to the Internet participating together in a system
The convergence of traditional connected devices and "smart" appliances
Then, a look at the landscape from the past and into the future: The graphic below is from a presentation titled The Connected Home: Trends and Implications, which I gave recently at the Casualty Actuarial Society's Centennial Celebration in New York City.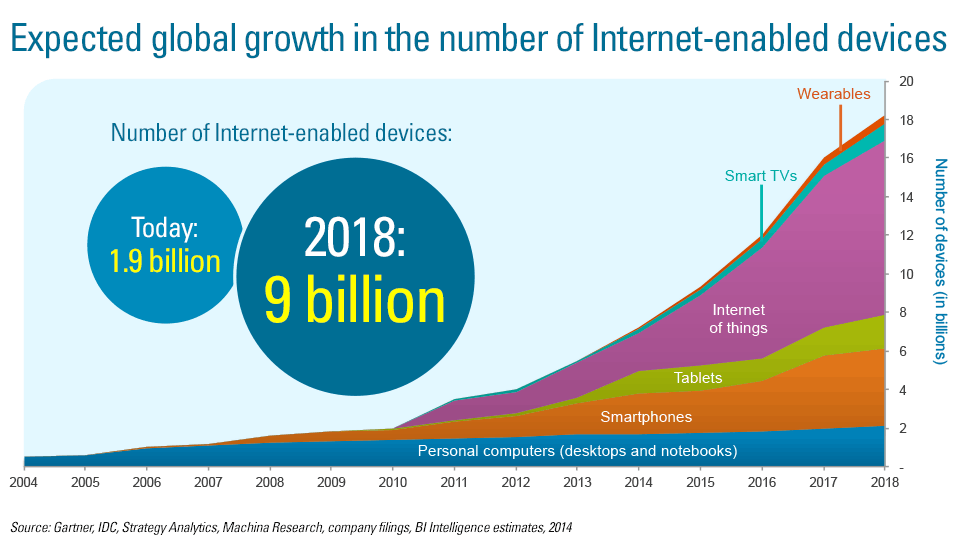 The "Internet of Things" market is projected to be bigger than the smartphone, tablet, and personal-computer markets combined.
And finally, take a look at our Visualize magazine article, Insuring the Connected Home. It's the first of a multipart series that looks at these questions: How will "smart" innovations affect homeowners insurance? And how will they reduce losses for residential property insurers?
In the upcoming issue of Visualize, a panel of industry experts weighs in on what insurers can expect. Not on our Visualize e-mail list? Subscribe here and be the first to get the latest.
---