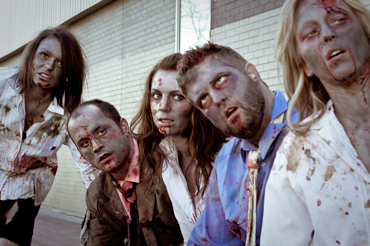 Zombies are sweeping the nation—at least if you believe the media and pop culturists. The walking dead are everywhere, from cities and small towns to homes and offices. While most people try to eradicate them, few are learning to adapt and deal with the situation.
Case in point: For every time you've seen zombies creating havoc in a downtown retail center, have you ever seen even one store owner calmly assessing the risk and attempting to insure against it?
Small businesses deal with unique challenges and opportunities. The entrepreneurial small business owner must often solve problems on the fly, with minimal resources. However, careful planning and preparation can help, and it's best to embrace the time-tested adage of expecting the unexpected. For most, that means obtaining a BOP (businessowners policy) to provide property and liability insurance.
Insurers need to examine current BOP offerings to see if policies truly meet customers' needs. Although zombie attacks have traditionally been dismissed by BOP insurers as mere fantasy, the sheer number of movies and television programs reporting them may lead some insurers to reassess their assumptions. If you're ready to address this growing concern, here are some of the hazards an undead invasion could pose to BOP customers.
In the event of a zombie attack, there's a very high risk to humans. Whether confronted by a Walker that slowly ambles toward you or by a Runner that does a Usain Bolt straight to the face, the threat of bodily injury is real. Once bitten and infected with the zombie virus, the person is no longer human. Unfortunately, there's no standard endorsement for that. And it could wreak havoc on workers' compensation and general liability policies if not properly underwritten. In addition, if employees are infected, they'll no longer be concerned with basic risk management and profits, only with the further spread of the pathogen, which could affect timely premium payments.
It's important to remember that zombies don't execute attacks with military precision, as they're driven by a primal desire for brains (as food) and a need to replicate the virus. The attacks are acts of opportunity, not of careful planning. As a result, smashed windows, broken equipment, and destroyed products are left in the wake of such an attack. Beyond that, there's a risk of water damage from destroyed plumbing and a general risk of fire. The cost to the small business owner is astronomical, and the property losses can scare potential customers and result in a business interruption claim.
Assuming the small business owner has not fallen victim to zombification, too, property damage is the most immediate and critical issue he or she will face. But if the small business owner has been infected with the zombie virus, he or she will no longer care about the business. In that case, who carries the burden of the loss? You, the insurer. However, with appropriate underwriting and pricing, you can account for an attack of the undead in the policy.
As stories of zombie attacks continue to increase in frequency, small businesses must be adequately protected against the risks they pose. Proper planning and careful preparation can help businessowners avoid the drudgery of "stuff and things." You, as the trusted insurance advisor, can make sure they don't go "Full Shane" in dealing with the aftermath of an attack.
Verisk – insurance solutions doesn't presently have a solution specific to zombies, but information on our BOP solution can be found at www.verisk.com/BOP or by contacting me directly at rick.stoll@verisk.com.