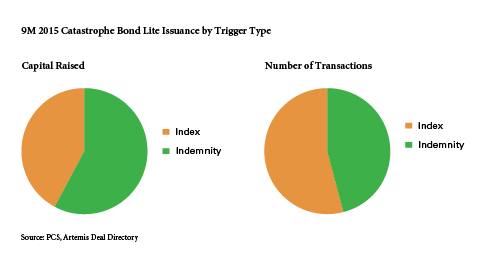 With the Rendez-Vous de Septembre behind us, the January 1, 2016, reinsurance renewal season has begun. The topics covered at the countless 30-minute meetings last month varied greatly, reflecting both industry trends and the specific objectives of cedents, reinsurers, and third-party capital providers. From our experiences in the annual ritual, we've identified five key themes of strategic importance for the renewal season. As a result, here's how we see the industry's "to do" list shaping up for the next three months.
1. Keep it "lite": The rapid growth of cat bond lite is poised to continue. In addition to the record-breaking activity we've seen this year, there's plenty of interest from potential new entrants, and the involvement of traditional reinsurers in the cat bond lite market this year suggests that 2016 could be bigger than 2015. So far, the use of cat bond lite has been complementary to the broader catastrophe bond market, a trend that's likely to continue. The two types of securitized risk transfer address specific cedent needs (as do other forms of risk transfer, such as ILWs), demonstrating that ongoing innovation is providing a wider set of tools for use in better risk and capital management.
2. Break through borders: ILS activity is gaining more traction outside traditional market sweet spots. This year (including lites), China, Japan, Turkey, Canada, and Europe have featured in catastrophe bond issuance activity. The market clearly has an appetite for regional growth, and the benefits of ILS should help expand the catastrophe bond's global footprint. Beyond our launch of PCS Turkey this year, we're actively exploring new regions and lines of business to help support both reinsurance and ILS market growth.
3. Serve the public interest: Publicly managed entities seem like a growth market for the ILS space, with the four transactions from this sector comprising a third of year-to-date catastrophe bond issuance. Cranberry Re represents a return to market for one entity, and others that have used catastrophe bonds in the past could return. Finding new sponsors in this segment will be crucial for ILS growth — both for the publicly managed entity market and the catastrophe bond space as a whole.
4. Evaluate alternatives for new entrants: Despite significant growth over the past decade — and even in recent years — the catastrophe bond market seems to be attracting fewer first-time cedents than in the past. Collateralized reinsurance and cat bond lite are broadening the base of cedents in this environment, but helping cedents understand the advantages of different types of structures could attract the new risk that the ILS market needs to sustain rapid growth. For more information on this topic — and the concept of "original risk" — take a look at our recent white paper on the subject.
5. Choose the right alternative: Cedents now have many ways to access capital markets capacity, each approach having unique features that can address a specific company's needs. As a result, it appears overall ILS market growth will not depend on the increased use of catastrophe bonds, particularly since cedents can balance the rigor of those transactions with faster and less expensive approaches, such as ILWs and cat bond lite. The maturing of the ILS market in this fashion — based on the ability to help specific companies meet their capital management objectives — bodes well for ILS market growth. Innovation for its own sake — and choosing a risk-transfer solution for its novelty — may provide short-term advantages, but it's not a platform for sustainable growth. The ILS market, with the range of solutions it provides, is showing a growth trajectory that's built to last.