With our new Public Protection Classification (PPC®) changes taking effect on July 1, there's a question insurers may ask: How does this affect me?
As noted in my June 12 blog (New PPC classifications go into effect), the new, refined PPC grades reflect differing loss experience more accurately and improve the predictive value of the evaluation. So the short answer is: The more accurate, detailed information about loss experience lets you price policies more precisely, avoid losses better, and increase the potential for profitability.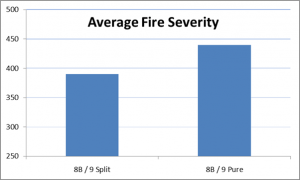 The classifications acknowledge the very different risks presented from a fire suppression perspective — differences that can lead to diverse loss outcomes, as shown by the sample in this chart.
Implementing the new classifications can positively affect your portfolio and profitability, opening up potential new business opportunities which might otherwise be missed. As you continue to automate front-end operations, you demand increasingly precise underwriting and rating tools. That's just smart business. As you react to intensifying competitive pressures, you seek the ability to segment and price risk on more detailed levels. That's competitive advantage.
Our analysis identified more than 30,000 split-class areas in the PPC program. Used effectively, the new classifications present an opportunity for portfolio growth. You may not have previously considered properties that receive the new X or Y classifications or earn the new 10W classification because of the risk implied by the old designation. However, now the more accurately reclassified properties may meet your loss experience criteria. That means market expansion, more precise pricing, and increased competitiveness.
The new Public Protection Classifications will change automatically on July 1.* If you have questions, feel free to contact us at 1-800-888-4476 or e-mail info@verisk.com.
*New classifications for use in all ISO states except Texas.