Home Care: A Growing Trend with Unique Risks
By
Tracey Waller
| April 6, 2015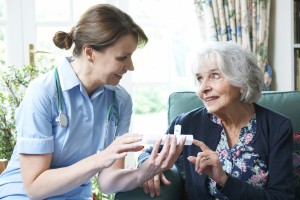 For the aging population in the United States, home care is often less expensive, more convenient, and, some would say, healthier than staying in a nursing home. But for the aides and skilled nurses in one of the fastest-growing industries in the United States, it's a job filled with enormous responsibility and frequently changing risks.
Whether it's helping a client shower, get to the doctor, or take medication, home care workers can face significant exposures. Unlike most aides or nurses in long-term care facilities who usually work at the same place every day, home care workers encounter a variety of working environments that can change regularly.
Consider, for example, the following three possible scenarios involving home care providers employed by the same agency:
Shower fall: A home care nurse is on her first day at a new location and helps an elderly woman into the shower. Unfamiliar with the shower, the nurse makes the water too hot and accidentally scalds the woman, who then falls and breaks her hip.
Car accident: An aide worker uses his own car to pick up a different client and bring the client to a doctor's appointment. The aide gets into an accident with another car, and the client is injured.
Forgotten medication: An aide visiting a third client does not  confirm whether the client is taking a daily insulin shot. After forgetting to take insulin for several days in a row, the client goes into a coma.
How, if at all, will insurance policies issued to the agency that employs those home care providers respond with respect to any related claims that may arise?
All of the scenarios mentioned above could lead to potential insurance disputes under different policies, depending on the specific provisions of such policies, and individuals involved.  In addition, a home care company's medical professional liability (MPL) insurance policy and/or  commercial general liability (CGL) policy might not be tailored to meet many of the unique needs of a number of home health care providers.
ISO Home Care Liability Program in the Works
To help address the wide range of potential exposures, ISO is planning to file a Home Care Liability Program this year on a multistate basis tailored to address the unique exposures of home care providers. The program is currently contemplated to accommodate a gamut of home care workers, from aides who cook and clean homes and provide companion services to skilled nurses. Here's what the program will likely include:
A single coverage form will address both GL and MPL related exposures related to home care businesses.
A single occurrence limit,applicable to both the GL and MPL coverage parts.
Optional coverage endorsements will be introduced that address hired and nonowned auto-related exposures, vicarious liability cover with respect to abuse and molestation, data security options, first-party medical equipment coverage, and theft of clients' property coverage.
If you have any questions about the Home Care Liability Program that we plan to file this year, please feel free to contact me at TWaller@iso.com or 201-469-2578.
---