ISO's Public Protection Classification (PPC®) program recognizes the efforts of communities to provide structural fire protection services for citizens and property owners. Insurance companies use PPC information to help establish fair premiums for residential and commercial property insurance. They recognize that effective fire service with adequate water supply, communications, and fire prevention should generally result in lower insurance premiums for communities with better protection. The fire service continually strives to do its best and often uses PPC as a framework for improvement.
Out of nearly 50,000 graded fire departments in the United States, less than 150 have earned the highest ranking of Class 1. That's a fraction of a percent. While a PPC Class 1 grade does mean bragging rights for the fire department, it also positively affects the community as a whole.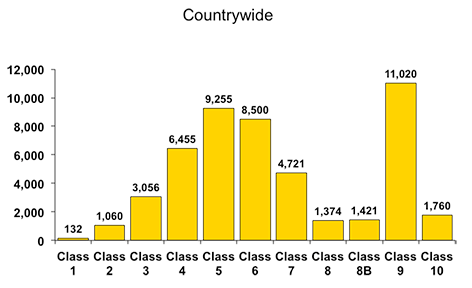 To get their insight, we recently interviewed several leading fire chiefs from around the nation whose fire departments have attained a Class 1.
Chief Tom Jenkins of the Rogers (Arkansas) Fire Department pointed to the fact that his community is seeing an economic benefit from its recent Class 1 rating. "Rogers is one of the fastest-growing municipalities in the country, rife with residential, commercial, and retail development," said Chief Jenkins. "Reducing our PPC rating shows developers and citizens that we're serious about doing everything we can to keep them safe and deliver a positive impact on their wallets."
When the Montgomery (Alabama) Fire Department received a Class 2 grade several years ago, Chief Miford Jordan immediately set his sights on earning a Class 1. Jordan recognized the inherent benefits, and with a lot of hard work, his department attained the Class 1.
So, how does a fire department achieve a PPC Class 1 grade?
In addition to interviewing Jenkins and Jordan, ISO Community Hazard Mitigation's Community Fire Protection News spoke with Shelby Willis, Largo (Florida) Fire Rescue, and Joe Schelstreet, St. Charles (Illinois) Fire Department, to gather the four chiefs' advice on how communities can successfully navigate the process—and hopefully earn their own PPC Class 1 grade.