Over the next decade, the United Kingdom must deliver on its national energy and climate change targets. The Energy Technologies Institute (ETI), a £400 million industry and government-funded partnership into low-carbon energy, was formed to address strategic energy system planning and technology development. The Energy Systems Catapult is delivering phase one of the Smart Systems and Heat (SSH) programme for the ETI and is using data and geo-mapping technologies from the Verisk Analytics UK geo team (formerly The GeoInformation Group).
The SSH programme began in 2012 to create economical local heating solutions for the UK by matching consumer needs and behaviour with the development and integration of technologies and new business models. It has developed the UK's most advanced local-area energy planning tool—EnergyPath Networks—to gather and analyse a wide range of data to create a representation of all energy demand and supply for a local area. It can map the effect of future growth on local energy systems and develop pathways for a cost-effective, local, low-carbon energy transition. The pathways will reflect the unique priorities of individual local authorities and, in collaboration with electricity, gas, and heat network operators, identify which energy options are most appropriate for a local area, as well as the order of prioritisation.
EnergyPath Networks integrates, evaluates, and prioritises:
building fabric insulation
heat conversion and storage at a network and building level
gas, electricity, heat, and other distribution network installation, upgrade, maintenance, or decommissioning
Essential to developing the transition options for a local area, it's necessary to build the best possible representation of local buildings as they currently exist. That provides an understanding of the energy demand of the buildings and building transition options; for example, a solid wall property cannot have cavity wall insulation installed. Verisk's building data is hugely useful in helping EnergyPath Networks build an accurate picture of the local area.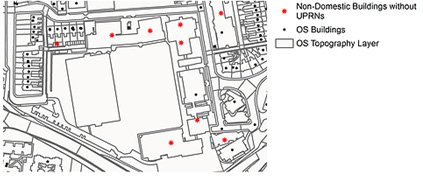 The key is that Verisk Analytics data identifies buildings without addresses. Other data sets provide information only on buildings with addresses or UPRNs (Unique Property Reference Numbers). For nondomestic buildings, this is particularly important for estimating energy demand. For example, an industrial site may include large factories with a small main reception. If only the main reception has an address, the floor area of the buildings on the site (and therefore the energy demand) could be drastically underestimated.
The following figures show typical EnergyPath Networks outputs for Newcastle, one of the local authorities testing the functionality of the software. They show the number and proportion of domestic buildings added to district heat networks.
The Catapult works with companies that are focused on exploiting opportunities created by the need to transform global energy systems—not only playing a part in accelerating technology-based solutions but also engaging with government to address market mechanisms and business models required to enable such solutions.
Together, the Catapult and Verisk Analytics continue to do their part to help the UK deliver on its national energy and climate change targets. For more information on geo-mapping solutions in the UK, visit www.geoinformationgroup.co.uk.
---