First-half catastrophe losses reached their lowest level since 2010 in the first half of 2014. Property Claim Services® (PCS®), a division of Verisk Analytics, revealed that U.S. catastrophe losses fell just shy of $10 billion, with $6.5 billion coming in the second quarter, according to preliminary survey and resurvey activity completed on June 30. Some of the events were subject to resurveys at the time PCS published its report, Continued Calm: PCS Q2 2014 Catastrophe Review, which means the estimates for the periods are subject to change. In fact, by the end of June, two recent events awaited preliminary estimates, and resurveys were pending for nine more.
Twenty PCS-designated catastrophe events occurred in the first half of 2014, up slightly from the 10-year average of 18.6. Frequency increased 11 percent from the same period in 2013, and first-half losses were down a modest 5 percent year over year from $10 billion in 2013. The average first-half loss from PCS-designated catastrophe events for the past 10 years is $9.7 billion. However, 2014 was the first time since 2010 that first-half catastrophe losses fell below $10 billion and the lowest first-half result since 2009.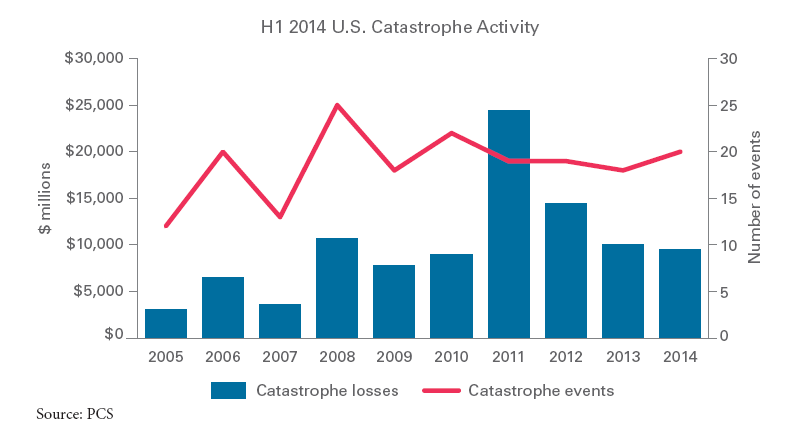 PCS-designated catastrophe events affected 36 states in the first half of the year. Texas had the largest losses ($1.8 billion), followed by Illinois ($737 million) and Pennsylvania ($677 million). Missouri and Nebraska had $493 million and $459 million, respectively. The vast majority of catastrophe losses in Texas occurred in the second quarter ($1.4 billion), and the same was true for Illinois ($569 million). All first-half catastrophe losses in Nebraska occurred in the second quarter. Oklahoma was not among the ten most affected states in the first half of the year, despite usually being one of the most catastrophe-prone in terms of both frequency and severity.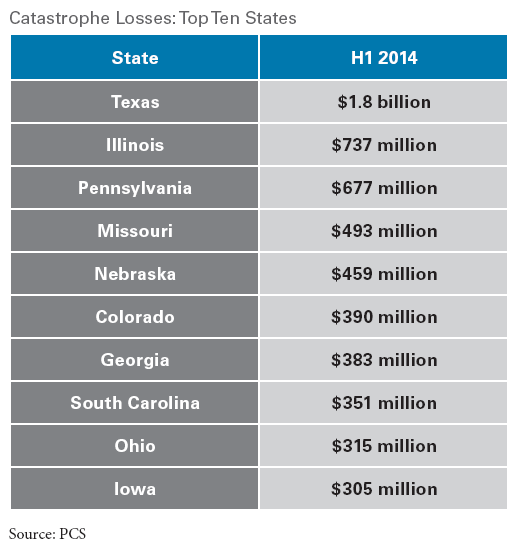 Of the 20 PCS-designated catastrophe events in the first half of the year, 13 came in the second quarter and, on average, they were more severe. The average first-quarter PCS-designated catastrophe event resulted in $429 million in insured losses, while second-quarter average losses were 16.5 percent greater at $500 million.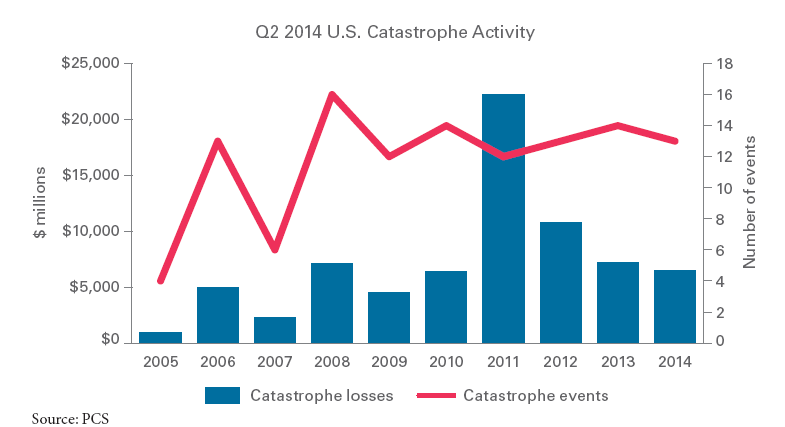 All 13 second-quarter events included the perils wind, hail, and covered flood, with nine also including tornado. The largest event of the quarter was a wind and thunderstorm event in mid-May, causing $1.5 billion in insured losses across 11 states. That event was one of only three designated by PCS this year with losses of more than $1 billion. In the first half of 2013, four events caused insured losses of above $1 billion.
For the second year in a row so far, PCS has not designated any catastrophe events with the tropical storm peril. Hurricane Arthur did make landfall in North Carolina this year. While most forecasts for the rest of this year's Atlantic hurricane season suggest that a major event is unlikely, both the ISO ClaimSearch® and PCS teams suggest that the claims community remain vigilant. It takes only one unexpected event to cause significant losses, impact customers, and require a rapid and disciplined response.
We strongly recommend that you submit all catastrophe claims to ISO ClaimSearch. In addition to helping you track claims activity and manage your resources, the information you supply can be crucial to future claims investigations and analysis.