To date, wildfires in California this season have burned more than 150,000 acres, and—with five major wildfires burning at this writing—that number continues to grow. California seems poised for yet another year of devastating wildfires.
The Erskine fire stands out as the most destructive California wildfire so far this year and ranks as the 15th most destructive in state history. It burned approximately 50,000 acres, destroyed 309 structures, damaged more than 75 others, and caused two fatalities.
Through our FireLine® wildfire risk management service and Respond™ monitoring service, we've been actively tracking the California wildfires and constantly updating perimeter information to determine the areas affected.
In an analysis of the Erskine fire, we based our perimeter information on available satellite imagery, and FireLine tracked data that included approximately 50,700 acres. The data is useful for insurance exposure management and to understand where and potentially how many claims will result, preparing insurers to help those affected by the fire.
FireLine uses advanced satellite data to assess the effects of the three primary factors that contribute to wildfire risk: fuel, slope, and road access. Fuel represents the vegetation surrounding a property; slope is the grade of land upon which the property is built; and road access identifies potential barriers for firefighters accessing the fire.
In the Erskine fire, the FireLine analysis of vegetation identified roughly 87 percent of the area within the fire perimeter as wildland fuels. Verisk combined this information with detailed analytics on other risk factors, such as topography and road networks, and determined that more than 92 percent of the area was at risk, with 68 percent at high or extreme risk.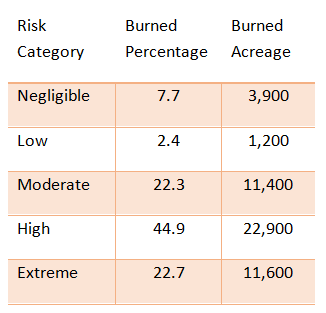 Additionally, FireLine provides risk reports for 13 western states that include the top five at-risk counties in each state. The reports list the high and extreme wildfire risk categories by number and the highest concentration of housing units. We've updated our California risk report for 2016, and you can download it at FireLine State Risk Reports.
Feel free to contact me for more details at asamanta@verisk.com.