Nearly every fire department I've visited proudly displays their mission statement in a prominent place in their headquarters. Although each department has unique responsibilities, all proclaim their mission is to protect citizens through superior firefighting. Some go another step and include the protection of property.
Many progressive departments go even further. In my city of Hoboken, New Jersey, the fire department's mission includes "a service responsibility to… every element of our business and neighborhood community." The common theme is that people and businesses want to reside in a community with exceptional fire service.
Some innovative statements include prevention. Charleston, South Carolina's fire department mission statement declares, "The purpose of the Charleston Fire Department is to assure a safe community through prevention." I found that particularly insightful, and it reminded me of a conversation I had with Lieutenant Mike Nobles of the Berryhill Fire Department, in Tulsa, Oklahoma. Mike said his mission was to never go on a fire call again.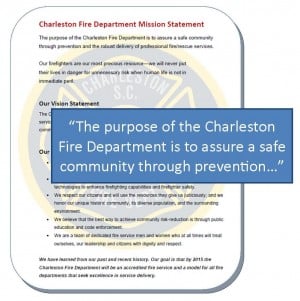 In some organizations, mission statements come with strategies, values, objectives, or goals. At a minimum, your department should continually evaluate and quantify key indicators aligned with your mission. For example, if your mission statement focuses on suppression and protecting life and property, track response times, property losses, or injuries/fatalities. If your mission statement focuses on prevention, count the number of smoke alarms you distribute or fires that occur. If fire frequency is decreasing, you're probably doing a good job of focusing on your mission.
You should keep your mission statement top-of-mind. Measuring performance will make sure your team works together with an eye on that plaque on your wall. The next time you read it, ask yourself two questions:
Is this the mission our customer wants us to achieve?
Are we achieving it?
This simple exercise is free and lays the groundwork to lead your department to success.
At ISO Community Hazard Mitigation, we also have a mission statement. Our job is to help fire departments and communities make smart decisions on hazard assessment and management, resource allocation, budgeting, critical infrastructure, and loss mitigation. In other words, our mission is to help you achieve your mission.
So, what's your mission?
Follow ISO Community Hazard Mitigation on Twitter @ISO_Mitigation or go to our website for more information.