Flying cross-country on a transcontinental flight gives you time to think (especially after two coffees). As I write this, I'm somewhere over the Great Plains but thinking about a presentation I attended last night. Chief Sean Slamon of the Modesto Fire Department gave his community a general overview of the fire department that was extremely compelling and grounded in high-quality, well-organized data. Between his engaging presentation style and supporting statistics, the chief held the full attention of, and received buy-in from, the attending citizens of this central California city.
Chief Slamon clearly articulated a direct — and most likely causal relationship — between resources and capabilities. Here are some of the important numbers for his department:
Since 2011, staffing at the Modesto Fire Department is down 7 percent, but incident volume is up 20 percent. That has resulted in a 29 percent increase in the average number of calls per firefighter.
Subsequently (and I believe directly related), simultaneous calls are up 38 percent.
Impressively, the department can still meet their 6-minute response time goal 90 percent of the time, although this is down from the previous measure of 96 percent.
The department's 10-minute, full-effective force response time performance decreased significantly from 90 percent to 50 percent.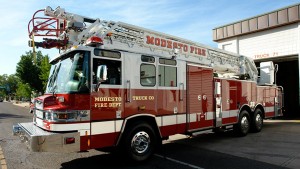 Chief Slamon openly recognized the decrease in performance, and the audience clearly understood the direct relationship to the decrease in resources. In addition, while only about 5 percent of the department's calls were fire-related, those calls took up 38 percent of incident time. The disparity highlights the significant demand fire-related calls place on resources and the fire company's availability.
Conveniently enough, two calls that came in during the 90-minute meeting illustrated the difficulties Chief Slamon was discussing. We were in an apparatus bay of a one-engine fire station, and the firefighters had to respond to two medical-aid calls. While the engine was out on those two calls, there was no engine available for deployment on a fire call. Fortunately, since medical-aid calls take less time than a fire call, the engine was back in the station pretty quickly.
With his use of data and analytics, Chief Slamon clearly embraced one of the values in the Modesto Fire Department's mission statement: Innovation and willingness to explore new options. No doubt there are fire chiefs around the country — and I'd like to think it's a very small number — who are hesitant to embrace innovation and the new options that data and analytics offer. Perhaps they're too set in their ways, fearful of change, or simply don't understand the new options.
Chief Slamon used data precisely how it should be used: to assess his department's successes and shortcomings, allocate resources to address the reality the data revealed, and effectively communicate to the citizenry. Thank you, Chief Slamon, for the inspiration!
For more information on ISO Community Hazard Mitigation, go to our website at www.isomitigation.com or follow us on Twitter @ISO_Mitigation.