The FDNY Foundation recently hosted its 20th annual dinner in Manhattan, celebrating both the foundation and the 150th anniversary of the New York City Fire Department (FDNY). The dinner honored high-profile members of the FDNY community for their year-round services. The event brought together a substantial number of guests, including our ISO Community Hazard Mitigation team of experts on the fire service, water supply, and fire analytics.
The ISO team consisted of Kevin Kuntz, current firefighter with the Montgomery Township Volunteer Fire Company and ex-chief of the North Brunswick Volunteer Fire Department; Hugh "Skip" Gibson, current fire commissioner of the Cherry Hill Board of Fire Commissioners; Tony Zampella, retired deputy chief of the North Plainfield Fire Department; and Dominic Santanna, former volunteer firefighter with the Lower Paxton Township Fire Department.
It was an honor for a "data guy" like me to be invited to such an event, but I felt right at home because the FDNY is one of the most progressive departments for using data and analytics. They created a model that identifies which buildings have the greatest likelihood of experiencing a fire. The program is called the Risked-Based Inspection System (RBIS). At its heart is an innovative data analytics algorithm called FireCast.
The FDNY uses FireCast 2.0, a program that sorts data from five city agencies into as many as 60 fire-risk-factor categories. The factors are used to create a ranked list of all the buildings that the FDNY inspects. The technology simplifies an extremely intricate task and eases workloads throughout the organization. Most notably, the program helps New York firefighters access many of the city's most fire-prone buildings, some of which haven't been inspected in years.
The FDNY is responsible for inspecting 330,000 city buildings, including all commercial buildings and any other buildings with common areas, such as apartment complexes — small, large, or humongous. The Empire State Building, with its 2.7 million square feet of space, counts as a single building!
FireCast aside, the FDNY Foundation dinner was a memorable experience that showcased an incredible organization's dedication and commitment to protecting New Yorkers. ISO Community Hazard Mitigation shares that commitment on a national scale. By evaluating and grading more than 50,000 communities' fire departments, water supplies, and communication operations, we work with property insurers and state fire marshals toward the shared goal of fire safety and prevention.
For more information on all ISO Community Hazard Mitigation services, please visit www.isomitigation.com.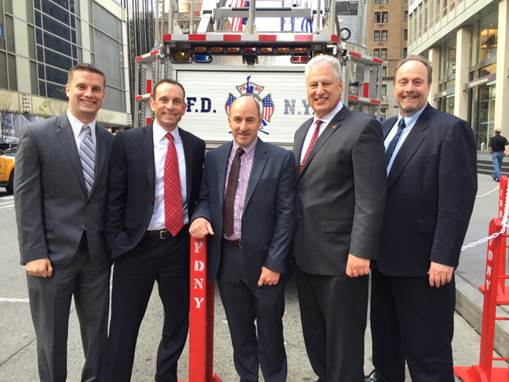 From left to right: Dominic Santanna, manager, ISO National Processing Center; Rick Stoll, director, product development at Verisk Insurance Solutions; Hugh "Skip" Gibson, manager, ISO Community Hazard Mitigation; Tony Zampella, manager, national water resources, ISO Community Hazard Mitigation; Kevin Kuntz, assistant vice president, commercial property risk engineering, Verisk Insurance Solutions.