It's midwinter in the Northern Hemisphere, and we're looking ahead to February with a review of historical catastrophe activity. In the ten years from 2007 through 2016, PCS® designated 28 catastrophes during the month of February. These included 26 weather-related events and two workers' compensation events, which together caused approximately $9.8 billion in insured damages and generated nearly 1.7 million claims.
The largest event for February since 2007 was CAT 68, a 2015 winter storm that involved 20 states and generated approximately 217,000 claims at an approximate cost of $2.1 billion. February 2015 also remains the most active month in catastrophe frequency since 2007, with five PCS-designated events. These totaled approximately $2.9 billion in insured damages and more than 317,000 total claims (including those from CAT 68).
February Historical Data 2007–2016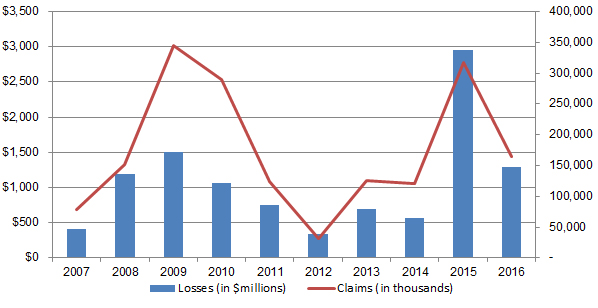 To get access to vital PCS information on the go, download the new PCS-Mobile app for iPhone (link to App Store) and Android (link to Google Play).