From 2005 through 2014, Property Claim Services® (PCS®) designated 24 catastrophes during the month of February, including 22 weather-related events and two workers' compensation events. February storms during that period caused about $6.6 billion in insured losses.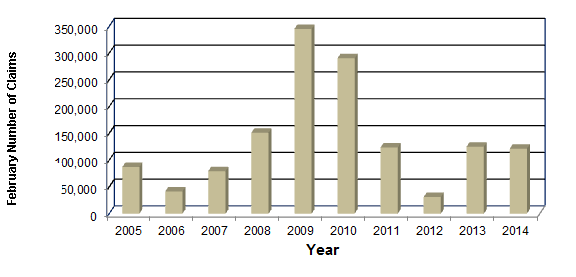 The largest February winter storm since 2005 was CAT 63, designated in 2009. The event involved nine states, had an estimated $1.4 billion in insured losses, and generated about 310,000 claims.
The most active year for February catastrophe frequency was 2010, with four catastrophes resulting in $1.1 billion in insured damages.
February 2014 had more than $560 million in insured losses and more than 121,000 claims. The month saw two major winter storm events, including CAT 33 and CAT 34, and one wind and thunderstorm event (CAT 35).
Please refer to the graphs for details on catastrophe activity in loss dollars and claim volume for the month of February from 2005 to 2014.
For access to vital PCS information on the go, download the new PCS-Mobileapp for iPhone.