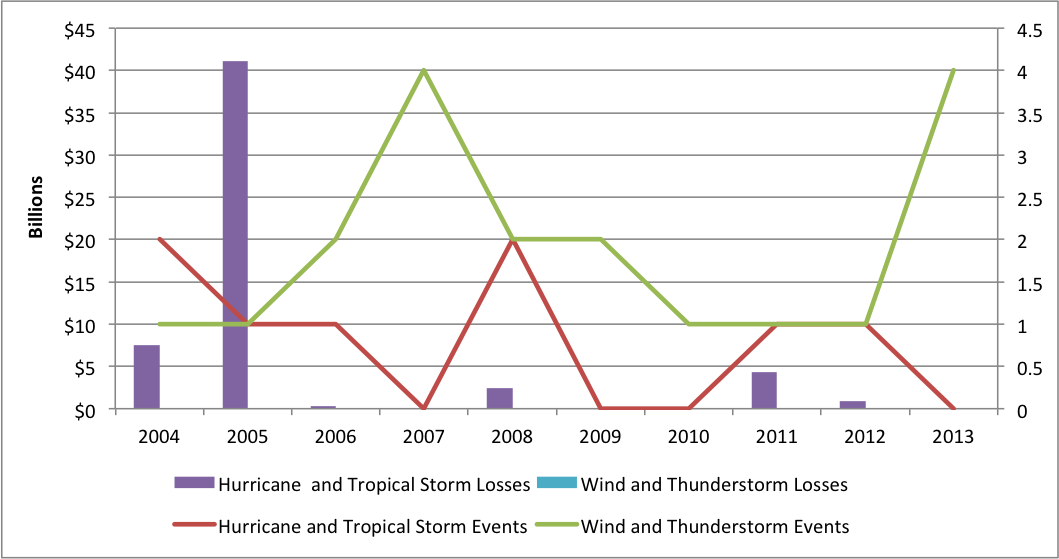 Hurricane season tends to define a year's catastrophe results. Last year, for example, only two tropical storms made landfall, contributing to a quiet year overall. In 2004, however, Hurricane Charley, an August event, caused $7.2 billion in insured losses. The following August, Hurricane Katrina caused $41.1 billion in insured losses and became the most severe catastrophe event on record at PCS.
While Atlantic basin activity, however infrequent, remains the focus on the insurance and reinsurance industry in August, a growing wind and thunderstorm threat could have profound implications that the weight of hurricane season tends to overshadow.
Over the past ten Augusts, only three years have been significant for tropical storm catastrophes: 2004 ($7.2 billion), 2005 ($41.1 billion), and 2011 ($4.3 billion). Net of those three years, only 0.6 tropical storm catastrophes occurred annually on average during the period, with an average annual loss of $510 million and total losses of $3.6 billion.
Wind and thunderstorm catastrophe was much more frequent, with 19 events from 2004 through 2013. August wind and thunderstorm events caused $5 billion for the entire period, resulting in an annual average of $500 million. The top three Augusts for this peril occurred in 2013 ($1.3 billion), 2007 ($1 billion), and 2006 ($590 million).
While all eyes will remain fixed on the Atlantic basin this month, as they are every August, savvy insurers and reinsurers will recognize the rise in August wind and thunderstorm activity — and the potential this peril can have to erode retentions and keep catastrophe coordinators busy.